Women of the South scholarship changes woman's life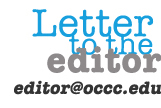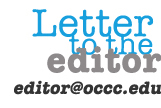 To the Editor:
Married at 20, I dropped out of college and went to work. I had three children by the time I was 30 and was a stay-at-home mom. I worked from home as a typist, proofreader and editor for college students, helped write résumés, created commissioned art, and more to generate income. When I could afford to, I took college classes. I accumulated 95 credit hours from eight colleges in four states by the time I was 45.
Divorced at 47, making less than $10 an hour, I knew I needed to decide how to make a new life for myself. I decided to obtain my bachelor of arts in Administrative Leadership through the University of Oklahoma. Classes were offered at OCCC and online, making class attendance easy to manage. My next challenge was financing my education.
A staff member at the YMCA told me about Women of the South and their scholarship program. I submitted an application and waited. During the panel interview, I was told the scholarship was offered to women around the age of 20 who were supporting children and pursuing an associate degree at OCCC. I was none of those. But I held on to hope. Amy Simpson called me and let me know that not only were they offering me a $1,000 scholarship but also they would continue to do so every semester until I completed my degree.
About six months into my pursuit of my bachelor's degree in 2011, the health and wellness director position opened at my branch. I still had more than a year to graduation so I was afraid I would not be considered. But I applied and was offered the position — with the stipulations that I obtain my degree by July of 2012 and that, until then, my salary would be lower. Once I obtained my bachelor's degree in May 2012, my salary increase kicked in and it was official.
Without the financial help from Women of the South, I would have been forced to take out student loans.
Because of the generous scholarship, I was able to graduate with no student loan debt at all and am currently the Health and Wellness Director at Earlywine Park YMCA.