Winter months often trigger mood changes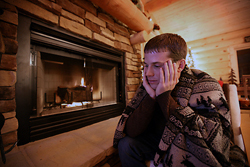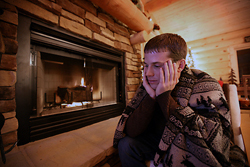 Winter months signal shorter days, two major holidays and semester finals. Those things may leave students and faculty dealing with added stress or depression.
Student Support Specialist Mary Turner said many people suffer with seasonal depression when the days get shorter.
Seasonal depression, also known as seasonal affective disorder or SAD, is a mood disorder that happens every year at the same time, according to WebMD.
"Seasonal Affective Disorder typically happens because of the lower amount of ultraviolet rays we get [in this area of the country]," Turner said.
"The ultraviolet rays affect our wake and sleep cycles and seasonal functions," she said.
"It is caused by the pineal gland that regulates production of melatonin."
According to WebMD, "with less sunlight … the brain does not produce enough serotonin, the soothing neurotransmitter in the brain. This results in feelings of depression."
The National Institutes of Health estimates more than 36 million Americans suffer seasonal depression that occurs in the fall.
Signals you may be suffering from SAD can include:
• Increased need for sleep
• Increased appetite with carbohydrate craving
• Weight gain
• Irritability
• Inability to concentrate
• Problems with relationships (sensitivity to rejection)
• A heavy feeling in arms or legs
• The times you've been depressed during the fall or winter season outnumber the times you've been depressed at other times over your lifetime.
Turner said one solution to combating the disorder is to purchase special ultraviolet light bulbs which can trigger the effect that longer summer days have.
According to WebMD, "light therapy is treatment with a special type of light that is much brighter than a lamp or other light fixture in your home. The most common form of this therapy is done with a light box that contains fluorescent — not ultraviolet or full-spectrum — lights."
Turner also suggests setting a routine and finding ways to volunteer in the community as a few ways to help overcome wintertime blues.
"Even if you're alone, attending a holiday dinner is a great way to meet or talk to new people," Turner said. "You do not even have to be destitute to attend one."
In addition, Turner said students who know of classmates from other countries could invite them to dinner to make them feel less alone.
"Let people know you care, but you need to take care of yourself as well," she said. "It helps talking to somebody you can trust to help sort out your feelings."
Psychology major Elizabeth Carlton, 23, said she has not personally experienced depression but has noticed mood changes among her friends.
"I have seen my friends go through these mood changes," she said. "They have them due to feeling the need to be in a relationship to justify the holidays."
Jennifer Karner 19, undecided major, said she has dealt with depression before.
Karner said she was diagnosed with an ailment similar to depression at the age of 16.
"I had a lot of issues and had trouble adjusting to relocating, but I found that talking to family and my church helped matters."
Turner said Student Support Services, located on the first floor of the Main Building, offers counseling.
Counseling is available from 8 a.m. until 8 p.m. Monday through Thursday and from 9 a.m. until 6 p.m. Friday.