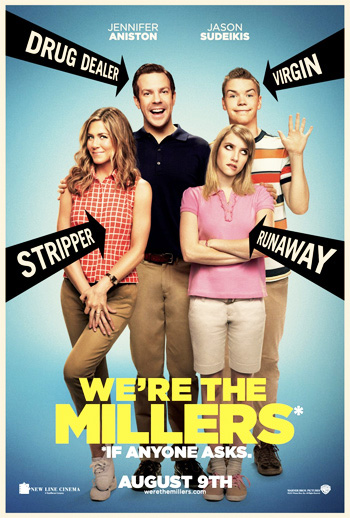 After watching "We're the Millers" recently, I walked out of the theater with mixed feelings.
While the movie portrays numerous laugh-out-loud moments, the story line is predictable.
One has to have an open mind while watching this movie because if the content is taken too literally, it is easily worthy of an eye roll or two.
The movie features some easily recognizable names: Jennifer Aniston, Jason Sudeikis and Emma Roberts.
The plot includes Sudeikis's character bribing three other people to get together with him to pose as a perfectly normal, cookie-cutter family so they can sneak over the Mexico border to smuggle what they think is a small amount of marijuana to the U.S.
Things take a turn for the worse when the amount turns out to be enough to fill an entire RV and takes them on a journey that is more dangerous and comical than they could imagine.
Despite the well-known main cast, the breakout roles that ultimately make the movie are Will Poulter as happy-go-lucky virgin Kenny and Nick Offerman and Kathryn Hahn as the "real life Flanders."
Their characters take the movie in a whole different comedic direction.
Poulter is naturally funny. His mannerisms alone are enough to make you laugh. His innocent, awkward and unique portrayal of Kenny fit the character to a T.
Offerman's creepiness and Hahn's quirkiness work out to be a believable and absolutely hilarious combination.
For me, the movie is a success in that it is well cast.
It fails in the fact that it held the main cast back so much that the underdogs took the show.
If you are looking for a light-hearted, simple comedy to make you laugh and don't care about story line, this movie is great.
But if you want something unique, different and new, don't waste your time.
Rating: B-