Web security program cited for excellence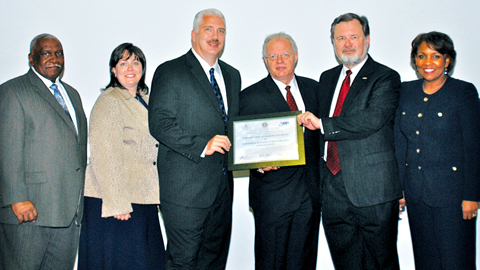 (Left to right) John Mathews, Comittee on National Security Systems executive secretary; Roberta Stempfley, Department of Homeland Security Nation Cyber Security Division director; Tom Ashby, OCCC Information Technology Division acting dean; Howard A. Schmidt, Cybersecurity Adviser to President Barack Obama; Al Heitkamper, OCCC computer science professor; and Debora Plunkett, National Security Agency Information Assurance director. Ashby and Heitkamper accepted a Center of Academic Excellence award last month in Baltimore. OCCC was one of six two-year colleges to receive the honor. (Photo provided)
OCCC's Cyber Security program was nationally recognized in June as one of the best programs in the nation, according to a letter from the Department of Homeland Security and the National Security Agency.
The college is one of only six two-year schools in the nation to receive the award for how well it prepares students to enter into the cyber security field, said Tom Ashby, acting dean of Information Technology.
"The criterion for this award were very high and by exceeding them we showed our continued commitment to excellence in this area of study," Ashby said.
The award from the National Security Agency and the Department of Homeland Security designated the college a Center of Academic Excellence.
In the award letter sent to cyber security professor Al Heitkamper, National Security Agency spokesman Richard George said the college is unique in the way it prepares students to defend America's cyberspace.
"Your ability to meet the increasing demands of the program criteria will serve the nation well in contributing to the protection of the National Information Infrastructure," George wrote.
Ashby and Heitkamper accepted the award last month in Baltimore, Md. They accepted a certificate and met with representatives from the Department of Homeland Security and National Security Agency, Ashby said.
He said he was enthusiastic to receive the award.
"The award is a great validation that the efforts and funding invested in this program are well spent," Ashby said.
He said he believes this national award grants OCCC new, well-earned importance and recognition.
It also means more work, Heitkamper said.
He will mentor another institution — which is not yet known — during the next few months so it can apply for the designation in the fall, he said.
"This was the first year a two-year institution could apply, so we are a charter school," Heitkamper said by e-mail.
OCCC President Paul Sechrist said he is proud of the cyber security program.
"This recognition reflects the excellent work of our faculty to develop the program into one of the best in the nation," Sechrist said.
He said students will benefit. "Prospective students now have an external voice letting them know our programs are top-notch," Sechrist said.
"It is also a signal to prospective employers of our graduates that the education received at OCCC provides businesses with highly skilled and knowledgeable employees."
To contact Zach Strauss, email onlineeditor@occc.edu.