Alzheimer's walk volunteers needed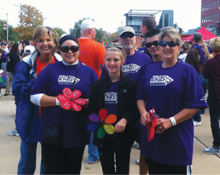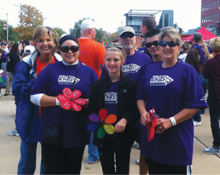 The OCCC Power Walkers team is looking for walkers and volunteers to participate in the 2015 Walk to End Alzheimer's being held Saturday, Sept. 12 at the Chickasaw Bricktown Ballpark.
Erin Logan, Student Life Director and chair of the walk, said OCCC supplied about 175 volunteers last year to help run the OKC walk. Walkers will follow a 2-mile route around the ballpark, she said.
"Our volunteers from OCCC are just absolutely fantastic and so they kept asking us if we could get more involved with the walk," Logan said.
"So we were able to build a partnership where we would supply volunteers for the Walk to End Alzheimer's.
"Together we help create an opportunity for students, faculty and staff to get involved either as volunteers, as walkers."
Last year, the OCCC team raised $2,700 for the walk. Logan said that is the goal again this year.
Kendra Fringer, Assistant Student Life Director and volunteer coordinator, said those who want to help but can't make the walk can volunteer in other ways.
She said volunteers are needed to help check people in and set up the memorial garden, as well as run water stations and photo booths.
Those who are unable to help on the day of the walk can contact Student Life for volunteer information pre-and post-event opportunities as well, Fringer said.
"If someone is unable to help the day of, we have lots of opportunities before and after: calling people and encouraging teams, checking in on people, making sure they have everything they need after the walk … ,"  she said.
"So there are wonderful opportunities for people to get involved in all sorts of areas.
Fringer said, if not for OCCC volunteers, the event wouldn't run as smoothly.
"It's a wonderful experience," she said. "Our students, faculty and staff really do help make the day of the event run,.
"So if somebody would like to be involved, they can register through the Walk to End Alzheimer's site and then they will be asked to put in their OCCC affiliation. Or, they can also register through Student Life."
Logan said the association provides a great support system for those who have been impacted by Alzheimer's.
"Alzheimer's touches more people than [some] think — Alzheimer's and dementia — and we are in an interesting position because our population is in that middle generation where they're caring for a parent who may have Alzheimer's or dementia, and they're caring for small children or they have kids," Logan said.
"So the support resources that the Alzheimer's Association of Central Oklahoma can provide are huge for our student population on campus."
Those who are interested in joining the team can contact Logan at elogan@occc.edu or visit www.act.alz.org.
For more information about volunteer opportunities for this event, contact Kendra Fringer at kendra.a.fringer@occc.edu or contact Student Life at 405-682-7596.