Student vocalists hope to perform with Broadway star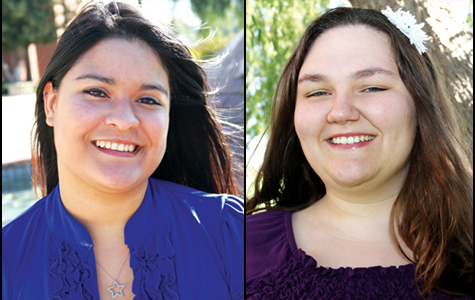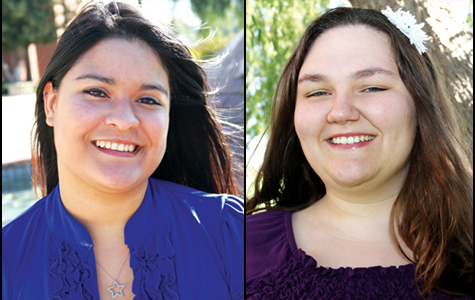 Rachel Morrison/Pioneer
Nidia Reyes and Lauren Rose will learn Oct. 11 if they will be chosen to perform with Broadway star Frank D'Ambrosio.
Singing on stage with Broadway star Frank D'Ambrosio is the goal of two OCCC vocalists who submitted audition tapes for his master class, to be held on campus Oct. 11.
Lauren Rose and Nidia Reyes will learn on the day of the class if they have been chosen to be among the three men and three women to receive singing lessons from the performer.
Rose crossed her fingers as she said she hopes to be picked to join the master class.
"This is a professional," she said. "It would be good to put on a résumé.
"I have potential, and this is what I want to do, to sing."
D'Ambrosio has said he will choose one man and one woman from the class to sing with him on the night of his performance at 7 p.m. Tuesday, Oct. 12, in the Bruce Owen Theater.
Lemuel Bardeguez, cultural programs director at OCCC, said four men and nine women applied for the musical parts.
D'Ambrosio is described on his website as the world's longest running lead in "Phantom of the Opera," one of Broadway's longest-running musicals.
He opened the competition to the community, as well as students, Bardeguez said.
At the end of the master class, D'Ambrosio will choose one male and one female to sing the parts of Christine and Raoul, the young lovers in this lover's triangle.
Participants were required to send in an audio CD with two vocal pieces on it.
The first vocal piece was to be the song "All I Ask of You," a duet from "The Phantom of the Opera" that the winners will be singing. The second piece could be whatever the vocalist wanted to sing.
Rose, a music major at OCCC, said she saw a poster advertising tryouts for the part. She researched D'Ambrosio's professional singing record and made the decision to send in an audition CD.
Though she is excited to hear the results, she also admits to being a little nervous. And she's not the only one.
Reyes said she feels the same way, but said she also looks forward to the experience.
Though she isn't a music major, Reyes said, she still has a passion for the musical arts. This past summer she took an individual voice class that OCCC offers to students who want one-on-one training with a professor.
"I came across the flier while I was studying with my professor," Reyes said.
"I told him about it and he knew about it already. He thought it would be a good idea for me to try out."
Even if she isn't the one female singer D'Ambrosio is looking for, Reyes said, it would be a great opportunity to make the master class.
"It would be an overwhelming experience to be able to sing with someone who is so talented."
For more information about ordering tickets to Frank D'Ambrosio's performance on Tuesday, Oct. 12, visit www.occc.edu/cas or call the Cultural Program's ticket office at 405-682-7579.