Vietnamese student likes fairness of U.S. education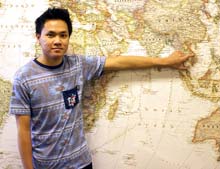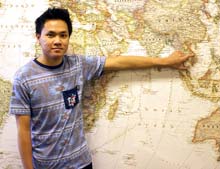 "Cool and intersting" is how public relations major Hung Tran describes the U.S. Tran has only been in the states for four months, but said he really likes it here so far.
However, he said, he also misses his home in Ho Chi Minh, Vietnam.
"I really miss my family and the food like the [fish noodles] in my home town," he said.
"I don't like a lot of the food here — like the hamburgers."
Tran said the major differences between here and Ho Chi Minh are the people and the weather.
Tran said the recent winter weather is the first time he's seen snow.
"You only see so hot or cold in Vietnam and it's rainy half the year," he said. "Here, you can see the snow in the winter and the fall clearly."
Tran said his first impression of America wasn't a good one but said that changed after being able to experience the country firsthand.
"Before I came here I didn't like America," he said, "but after four months of being here I really like it.
"I like the people, environment and education system. I've met many people that are helpful.
"Also it's a challenge and I like a new challenge."
Tran said he came to the U.S. to get a better education in a country that provides more diversity for students than Vietnam does.
"In Vietnam, if you're rich, you don't have to put in your time and effort to study so you just apply for credit hours and after four or five months you get your degree," he said.
"You don't have to study. Here you have to study and put forth your effort and everyone is equal. I like it."
Tran said he wants to get a job in the U.S. after graduating   from either Southern Nazarine University or the University of Oklahoma where, he said, he plans to to get a bachelor's degree in public relations.
He said he has many goals.
"I just want to talk and work with people and improve my communication," he said.
"I love working with people.Leadership and management are my interests."
Eventually, Tran said, he will move to Canada to live with his sister but only after he helps his nephew complete his education here in the states.
"I don't plan on moving back to Vietnam," he said.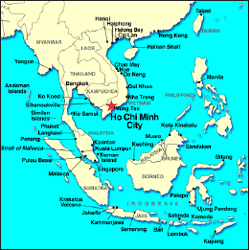 Vietnam______
Capital: Hanoi
Population: 89.71 million (2013)
GDP: 171.4 billion USD (2013)
Size: 489,200 sq. miles (1.267 million km²)
Official Language: Vietnamese
Currency: Vietnamese Dong
Government: The politics of the Socialist Republic of Vietnam are defined by a single-party socialist republic framework, where the President of Vietnam is the head of state and the Prime Minister of Vietnam is the head of government, in a one-party system led by the Communist Party of Vietnam.
Religion: Mahayana Buddhism, Confucianism, and Taoism.
Details: Country in Asia. Vietnam, officially the Socialist Republic of Vietnam, is the easternmost country on the Indochina Peninsula in Southeast Asia.
—www.google.com
To contact Katie Axtell, email communitywriter@occc.edu