Video game degree program needs recognition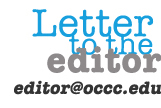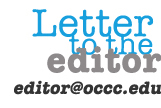 To the editor:
I often find that many students looking for a non-traditional degree in Art are never told about the programs that our computer aided technology department has to offer.
More often than not when many individuals think of art, there are only a handful of disciplines that come to mind including film, literary arts, music, performing arts and visual arts.
OCCC offers excellent degree programs in these traditional art disciplines, but now we also offer some non-traditional studies of art as well.
OCCC offers a computer aided technology (CAT) degree with an option in game design.
The video game industry is a fast growing industry and although it can be somewhat technical, video games are finally getting credited as works of art.
In August, CNN reported that the video gaming industry is becoming its own genre of art.
Another combination of art and technology is the newest CAT degree program option, computer animation.
The computer animation degree option integrates traditional arts with computers to produce both traditional (hand drawn) and computer 2D and 3D animations.
Both the game design and computer animation programs offer courses in the development of games and animation.
There are also classes that focus on the historical impact and critical evaluation of these works.
For individuals who are looking to mix their love of both art and technology, the CAT degree in game design or computer animation may just be the perfect fit.
If interested, please contact Professor Akram Taghavi-Burris at: ataghaviburris@occc.edu