Vice President's honor roll recipients listed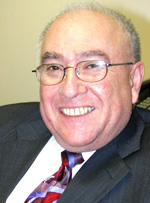 "

It is my great pleasure to congratulate those who have qualified for the Vice President's honor roll.

You have shown a continual striving for and achieving of excellence. My best wishes for you in your future endeavors. I know you will do us proud."

—Felix Aquino

OCCC Academic Affairs Vice President
Students are eligible to be on the Vice President's honor roll by achieving a GPA of 3.5 while carrying at least 12 hours. Part-time students are eligible if they have maintained a 3.5 GPA for two consecutive semesters.
Heather Aaron, Autumn Ackerman, Tracie Adams, Victoria Alarcon, Francisco Albert, Jonathan Ariel Aldana Perez, Britten Allen, Mary Allison, Veronica Alvarado, Anna Alvey, Christian Ambrosio, Robert Anderson, Nicholas Anderson, Benjamin Anderson, Dakota Arms, Rose Ashu, Taylor Atherton, Eugene Atkinson, Jenny Atteberry, Veronica Austin, Jeremy Austin, Amy Avalos, Katie Axtell, Esther Baca, Melissa Baez, Lauren Bajema, Allison Bales, Baylee Balsano, Darla Baltrush.
Elizabeth Bare, Taylor Barnes, Alex Barnes, Nathaniel Barrett, Latisha Batiste, Katherine Bayliss, Gary Beebe, Ashley Beeson, Amanda Belcher, Shelba Bell, Kayla Bell, Mark Bennett, Michael Bennett, Ashley Berglan, Nicholas Binder, April Bitner, Arao Agostinho Biunda, Russell Blackmon, Jennifer Bledsoe, Mycalyn Blomstrom, Melea Blomstrom, Brooke Boettler, Brandon Boland, Isabelle Bolin, Maxwell Bowman.
Michael Boyd, April Boyd, Skylar Bradley, Gina Brennan, Madison Brewer, Lindsey Brewer, Nicole Brogden, Allison Brogden, Skye Brooks, Karen Brown, Ashley Brown, Lauren Brown, Brenden Brown, Guy Brown, Amanda Brown, Haleigh Brown, Alissa Brummett, Amanda Bryant, Mark Bryant, Jonathan Bubier, Darrell Buck, Dustin Bui, Joshua Buzzard, Shelby Cagle, Kimberly Calloway, Richard Campos, Bridget Cannon, Stacia Carbajal, Christian Carnahan, Alexis Carney, Brian Carrethers, Norma Carrillo.
Amenthia Carrion, Tabitha Carroll, Heather Carter, Connor Casey, Heath Castor, Blaine Cate, Solana Ceville, Dezaree Chambers, Chao-Yang Chang, Yun Chen, Nichole Childress, James Circle, Chasity Clary, Candace Clay, Amanda Clutter, Jacy Cole, Jessica Collier, Rachel Collins, Alicia Collins, Traci Collins, Nicole Cooper, Brandon Copass, Latoya Coverdale, Justin Cox, Keisha Creach, Megan Cronin, Courtney Crouse, Crystal Crowe.
Braden Crumly, Madison Culwell, Johnathon Cunningham, Madison Dancer, Thu Dang, Elizabeth Dang, Kenny Dang, Lauren Daniel, Madison Daniels, Aaron Daniels, Janette Daniels, Thu Dao, Nicole Daoust, Chad Daugherty, Bambi Davis, Ryan Davis, Evan Davis, Jessica Day, Philip DeFatta, Stephen Dellinger, Logan Denney, Camille Dennis, Erika Diaz, Jessica Dinh, Lisa Dinh, Yannick Djomo, Thomas Dobbs, Jorge Dominguez-Manjarrez, Dustin Donaghe, Amica Doxey, Megan Dressler, Madison Dreyfuss, Alexis Dumas, Stacy Dunn, Andrew Dunn.
Karla Duran, Agbor Ebot John, Ilham El Abari, Tory Eldridge, Samuel Elenwo, Covenant Elenwo, Jessica Ellerd, Marissa Elliott, Sarah Ellison, Haley Ellison, Michael Emerson, Kristina Eno, Cameron Ervin, Linda Espinosa, Francisco Esqueda, Laura Esquivel, Jonathan Estrada, Shed Euwins, Morgan Fares, Shiloh Farris, Taylor Faulkenberry, Courtney Felder, Tiana Ferguson, Stephanie Ferguson, Rick Ferguson, Michael File, Michael Fitzgerald, Andrea Fitzgerald, Erik Flores, Jade Floyd.
Jacob Fourcade, Justin Fowler, Joselyn Fowler, Roxana Franco, Abbie Freeman, Falan Fronko, Anna Frost, Nichole Funk, Chelsie Gabel, Amanda Gamble, Viridiana Garcia, Zaira Garcia, Cassidy Gardner, Austin Garland, Mariah Garner, Joseph Geffre, Dakota George, Sheree Germany, Vincent Giambaresi, Danelle Gibson, Johnnie Gilpen, Timothy Girkin, Michael Glancy, Kristen Godinez, Silvia Goicochea, Andrew Gomes, Alecxis Gonzalez, Aide Gonzalez.
Mary Goodnight, Marissa Graham, Megan Graver, Bailee Gray, Christopher Gray, Kendra Green, Peter Green, Ken Greenshields, Douglas Greer, Briana Gregg, Brady Griffin, Edwin Grimes, Taylor Groschick, Jacob Grothe, Sarah Grotts, Jelena Grubisic, Zachary Guilbault, Mariah Hale, Paula Hale, Astoria Hallford, Bethanie Hamilton, Amanda Hardage, Bryan Harding, Angela Harper, Dee Harrison, Darrin Hatch, Allison Hayes.
Joshua Heath, Jessica Heiderstadt, Lauren Heilaman, Paige Henderson, Nicolle Hendricks, Cecilia Henrion, Carlie Henson, Isai Hernandez, Victor Hernandez, Jake Hewett, Hailey Hibdon, Nicole Hibshman, Jamie Hileman, Chelsi Hill, Mark Hindman, Wendy Hoffman, Alex Holder, Grahm Hornsby, Larry Hosek, Angela Houser, Seth Howell, Amber Hudson, Brandy Huff, Joseph Hughes, Monica Hutchison, Vu Huynh, Rachel Interwicz, Camila Irarrazabal, Chizuko Isobe.
Nathanael Izu, Emily Jackson, Quatama Jackson, Jeremy Jacob, Khurshid Jahan, Stephanie James, Holly Jenkins, MacKenzie Jennings, Jonathon Jester, David Jimenez, Kristofor Johnson, Brooke Johnson, Kaitlyn Johnson, Rachel Joiner, Codie Jones, Ryann Jones, Carroll Jones, Kayla Jones, Kenneth Jordan, Saibra Journey, Seunghun Jun, Andrew Kabara, Robert Kamunyu, George Kanyingi, David Karugo, Jamie Kautz, Christ Kaya, Jesus Keefer, Stephen Keel, Emily Keith, Joseph Keller, Erik Kenrick, Andrew Kern, Phung Khong, Nguyen Khong.
Stella Kim, Gwangmin Kim, Jeffrey Kime, Leah Kincaid, Austin King, Courtney King, Regina Kraft, Tobias Kremeier, Brandon Kuon, Andrews Kwei, Joanie Lambert, Anthony Landers, Britny Lane, Elizabeth Langford, Harrison Langston, Zachary Larson, Kathy Le, Phuong Le, Lien Le, Nhi Le, Thong Le, Teionna Leach, Olivia Leachman, Luis Leal, Tania Lebron, David Lee, Isaac Lewis, Antonesha Lewis, Penny Lewis, Yang Li, Sang Hoon Lim, Leroy Limke, Daniel Litton, Jessica Livesey, Krista Lloyd, Katherine Lloyd, Richard Lockhoff-Taylor.
Tracey Logan, Alexandra Logoutine, Erick Lopez, Margarita Lopez-Luera, Steven Love, Jesus Loya, Nancy Loyd, Vy Luong, Zackery Lupton, Chau Ly, Victor Macias, Noemy Magana, Hayden Magar, John Magelssen, Cameron Majma, Rachel Mallory, Angelica Maness, Frankie Mangus, Miranda Mann, Joseph Marlow, Aliyah Martin, Chance Martin, Jose Martinez, Jaciel Martinez, Lorena Martinez, Cloudine Mbong, Jordan McCarthy, Gage McCartney, John McCloy, Leslie McClure, Megan McCord, Cayla McCullough, Hannah McGill.
David McIntosh, Sarah McKenzie, Kyle Mears, Jeremiah Meck, Natalie Melancon, Kirk Melton, Angela Merka, Joseph Merrill, Andrew Merriman, Nicole Miller, Amanda Million, Joshua Mize, Laurie Moglia-Lahood, Anthony Mokaya, Juan Montoya, Sarah Moore, Jaren Moorman, Katherine Morrison, Kaylee Mosley, Kristyn Motley, Valerie Mueggenborg, Chance Mueller, Michael Mueller, Anthony Murray, Sarah Muzny, Fred Nanthakoummane, Leila Ndomche Kondo, Connor Neale, Freshta Nematzadeh, Kylie Newey, Nicholas Nguyen, Hiep Nguyen, Tiep Nguyen, Phuong Nguyen, Jenny Nguyen.
Phuc Nguyen, Tyrus Nguyen, Trang Nguyen, Lindsey Nguyen, Tam Nguyen, Tien Nguyen, Chris Nguyen, Tuyen Nguyen, Thao Nguyen, Jazmine Nichols, Lynsay Nichols, Philip Nicholson, Malorie Noah, Ragan Noonan, Madison North, Anthony Norton, Blake Nuncio, Alexander Okeke, Kaylee Oman, Christina Ormand, Holly Osterberg, Matthew Owen, Bailey Pack, Leonardo Padron, Christina Paez, Daxton Page, Kathryn Painter, Megan Palmer, Brian Palmer, Matthew Palumbo.
Iris Park, Jeongin Park, Alan Parker, Katherine Parker, Jennifer Parsons, Jillian Parus, Neel Patel, Joel Paul, April Pauletti, Amy Pavelka, Walter Pennington, Breauna Perry, Bertino Petchiho, Rachel Petillo, Tara Pettigrew, Erin Pforter, Tung Pham, Tuan Pham, Thuong Pham, Trinh Pham, Amy Phelps, Breanna Phillips, Cheyenne Phillips, Andrew Pierce, Paul Pierce, Micah Pilkenton, Meranda Poe, Nathan Post, Marie Racolta, Md Julkifly Rahman, Joseph Rainwater, Timothy Ramirez, Brandon Randall, Jacob Randolph, Sierra Ray, Corrie Reagan, Kari Reichert, Tyler Reisman.
Alishia Reno, Tiandrea Rice, Natasha Riggs, Shawn Riley, Ferdinand Riley, Michaela Riley, Deralin Ritter, Trevor Roach, Sean Robertson, Taylor Robertson, Jazmine Robinson, Alfred Robinson, Anita Rojas, Abby Roper, Jennifer Rorex, Victoria Rose, Sarah Ross, Alfred Roundtree, Montserrat Ruffin, Eric Rumainum, Alexa Rushing, Christopher Saenz, Luqman Salaudeen, Robert Saldana, Paulina Saldana, Raquel Samaniego, Kasun Samaranayake, Kellis Sananikone, Emily Savage, Christina Sawall, Jared Scales, Dayla Scales, Joseph Schmitt, Patrick Schrank, Charles Schwab.
Joe Scoggins, Noel Scott, Tamara Scott, Jake Scroggie, David Scroggins, Christopher Seals, Ricardo Serna, Brittany Sexton, Nichole Shadid, Richard Shaw, Sarah Shirk, Tiffane Shorter, Frank Shover, Jack Shuler, Tobi Sims, Shristi Singh, Tiffany Sitton, Maegann Sloan, Kelsey Slovacek, Brandi Small, Destiny Smart, Jaley Smith, Kiel Smith, Pamula Smith, Madison Smith, Makenna Smith, Stella Smith, Austin Smith, Taylor Smith, Amine Sniter, Anna Soh, Elizabeth Sotomayor, Haley Sparks, Austin Spasic, Jenna Spengos, Jamie Stacey, Trenton Stamps, Amanda Standefer, Laurie Stang.
Catherine Starkey, Summer Stephens, Rebecca Sterkel, Jessica Stevens, Daraja Stewart, Neal Stewart, Haley Stewart, Jacob Storey-Gilleland, Jamie Stout, Marissa Stowers, Stacey Strunk, Cameron Sturtz, Feiyang Su, Jared Swartz, Rebecca Swihart, Shahrzad Tavasoli, David Taylor, Catherine Teeselink, Lukee Thein, Melissa Thomas, Danielle Thompson, Matthew Thompson, Sarah Thonhoff, Isabella Thornton, Reagan Tijerina, Graciana Tiku, Christopher Tinsley.
Collin Todd, Kristen Torres, Jaclyn Towe, Dragon Tran, Jaime Trevino, Sarah Trosper, Victor Truong, Jamie Uhles, Yessenia Valadez, Megan Van Lew, Cheyenne Vanwassenhove, Jorge Vasquez, Nadya Vasquez, Elizabeth Vass, Andria Vaughn, Arely Vera, Caleb Vesely, Leonardo Villaseca-Cruz, Tan Vo, Alexa Voss, Minh Vu, Nhu Vu, Katelyn Walden, Ricky Walker, Amelia Wall, Paula Wallace, Tara Walton, Ann Waltrip, Yan Wang, Zechen Wang, Alexandra Warden, Kayla Warr, Annette Waters, Alexis Watkins, Heather Watson, Connor Watts, Zachary Watts, Morgan Weaver, Quinton Webb, William Weimer, Jacob Welch, Hannah Westmoreland, Erin Weymouth, Tracy Whetstone, Coby Whitaker.
Brian White, Leland White, Shelby White, Spencer White, Jada Wicks, Donnia Wietelman, Sheridan Wiles, John Wilkins-Kirk, Paxton Willard, Garrett Williams, Brandy Williams, Brett Williams, Jayde Williams, Dylan Williamson, Yandree Wilson, Lesimone Wilson, Johnny Wingate, Kiziah Winn, John Winter, Stefani Winter, Zane Winters, Zachary Wise, Kylie Wittenbach, Bryan Woodard, Cornelius Woodard, Kendal Woody, Misty Wornick, Darby Wright, Noria Yanz, Prince Yebo, Hyunjeong Yoon, Brandon Young, Angela Younkins, Maria Zapien Maynez, Barbara Zavala Renteria, Christy Zhang, Brandi Zielinski, Sarah Zuber.
(Don't see your name and think you should be on the honor roll list? Call the graduation office at 405-682-7521.)