Unrealistic food vendor options posed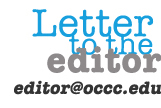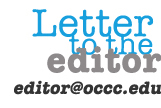 To the editor:
The editorial "Campus Needs More Dining Options" in the Oct. 29 issue of the Pioneer raised a lot of valid issues regarding on-campus dining options.
A couple of things the writer did not consider, however, are the issues of space availability and limited consumer base.
OCCC does not have the space available to accommodate other food vendors, whether it is in the building or in the parking lots.
The parking lots are already congested.
Adding vendor trucks and customers to the conglomeration already in the parking lots would be unmanageable.
The college already uses every available space on campus.
I do not see anywhere that we could add additional food vendors.
Also, one of the key reasons the University of Oklahoma and Oklahoma State Universityhave a large selection of franchise fast food restaurants in their food court is because the student union areas are considerably larger than OCCC's.
Students live on campus and eat on campus.
This provides a larger consumer base for the vendors.
OCCC, as everyone knows, is a commuter college.
This makes it a totally different environment when it comes to food service.
Our food service provider, Carson's Catering & Food Concepts, provides a large variety of dining choices in a very limited space.
There is a large selection of deli sandwiches, hot pizza, hamburgers, hot dogs, tacos, chicken strips, hand-tossed pasta and green salads, and hot entrees, as well as numerous breakfast items in the mornings.
I understand there is even sushi at least once a week.
The Coffee Shop offers specialty coffee drinks and pastries from morning to evening, hot menu items for evening students, and breakfast items and lunch selections for those attending classes during the day.
Carson's does a remarkably good job of providing a wide variety of dining selections in a limited amount of space.
My opinion is that OCCC, in partnership with Carson's Catering & Food Concepts, is providing the best possible dining experience for our students with the resources we have available.
The next time you are lamenting the fact that there are no fast food vendors on campus like OU and OSU; console yourself with the thought of the excellent education you are getting at a bargain price in comparison to these larger universities.
I think you will feel much better!