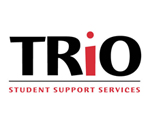 An OCCC program was awarded a grant that will fund its activities for the next five years.
OCCC's TRiO Upward Bound program will be awarded $1.5 million over the next five years.
The program will receive the first increment in September and the funds are slated to last the program through August 2017.
TRiO programs are federal student programs designed to reach out and assist students.
There are seven main TRiO programs— two of which are available at OCCC— TRiO Upward Bound and TRiO Student Support Services. The TRiO Programs office offers services to OCCC students but many do not know these opportunities are available.
The TRiO Student Support Services program is for first-generation college students, low-income students and those who have a documented disability.
TRiO Upward Bound is another program offered to high school students, which supports students throughout high school and prepares them for college. Each school district is covered by different colleges, and OCCC covers the south Oklahoma City and Moore area schools.
Pat Stowe, Student Support Services director, said that TRiO Upward Bound is a federally funded program that strives to support college bound high school students.
Stowe said the program offers tutors, ACT preparation, group activities and counseling and covers up to $40 per week to needy tudents who participate in all required activities.
These services are paid for, and are in conjunction with, the summer school classes and trips thatsome students take at OCCC.
TRiO Student Support Services students will be attending the program's yearly retreat, set for Aug. 13 and 14.
TRiO Grant Programs director, Karolyn Chowning said the retreat is for all TRiO Student Support Services students, including students that are brand-new to the program.
Chowning said the organization's first-ever OCCC TRiO Student Support Services alumni dinner is set for Aug. 16 at a local restaurant near the college.
Some of the proceeds will benefit TRiO Student Support Services, she said.
"All friends of TRiO are welcome," Chowning said.
Blake Hamilton, a professor at OCCC who teaches poetry during the summer to TRiO Upward Bound students, said the program "gives (students) a jumpstart on being in college."
Enrollment in the program is currently limited to 60 students but, due to the allocated budget increase this September, TRiO-Upward Bound will be able to accommodate 75 students.
Chowning said that prospective students should apply before the end of July in order to attend the orientation retreat in August.
Those interested in either program are encouraged to stop by the TRiO Programs office located on the first floor of the Main Building of the college, next to the Bursar's Office in room 1T7, or call 405-682-1611, ext. 7620.
"We are a friendly place," Chowning said.
To contact Kelly Stone, email onlineeditor@occc.edu.