Time For Three perform Nov. 3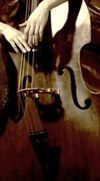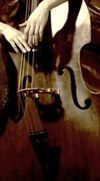 Their music combines elements of classical, country-western, jazz idioms, and string.
Known as Time for Three, the trio includes Ranaan Meyer, playing double bass, with Zachary De Pue and Nicolas Kendal, playing violins.
The group will perform at 7 p.m. Thursday, Nov. 3, in Bruce Owen Theater.
Time for Three began its young career with a unique new category of music and the not-so-usual combination of musical instruments, said Lemuel Bardeguez, Cultural Arts director.
These three musicians played together while students at Philadelphia's Curtis Institute for Music, Bardeguez said. Each of them brought a different musical sound to the group, which they experimented with and formed their own sense of style.
After Time for Three makes a stop at OCCC, the group will go on to Tulsa to perform.
Bardeguez said he heard Time for Three play at the Philharmonic. Time for Three will make a Carnegie Hall debut in the 2011- 2012 season, he said.
According to their biography on their website, www.tf3.com, they have made a reputation for themselves with their passion for music and their non-existent musical boundaries.
When the young group played at the Philadelphia Orchestra in 2003, they gained the attention of Philadelphia's Mann Center of Performing Arts during a power outage. Meyer and De Pue started an impromptu jam session, which made the crowd go wild, Bardeguez said.
They are a well-known group that has performed at more than 200 engagements, many much larger than OCCC's theater.
Tickets for the event are $22 for the public and $10 for students. Tickets are available in person at the Office of Cultural Programs (1G1A MB), inside the SEM Entry 1 or may be purchased at the Cultural Arts Series website at http://www.occc.edu/cas/time-for-three.html, or by phone at (405) 682-7576.
To contact Ashley Fuksa, email onlineeditor@occc.edu.