Third annual Lifesaver 5K run draws crowd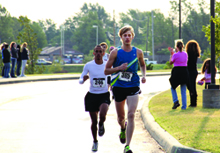 Rachel Morrison/Pioneer
Brian Pickens, OU psychology major and race competitor number 385 takes the lead during the OCCC hosted 5K run September 17. Pickens went on to win 1st place in the race.
Brian Pickens of Moore was the winner of the 5K Lifesaver Run on campus Sept. 17. His time was 17 minutes, 54 seconds.
Tim McCoy of Oklahoma City took second for the men with a time of 18:05. Montana Keller of Oklahoma City took third with a time of 19:43.
The winner in the female category was Alice Vile of Oklahoma City with a time of 24: 29.
Second and third place finishers for the women were Kathryn Wickham of Oklahoma City with a time of 25:00 and Laurel McPeak of Oklahoma City with a time of 25:52.
A total of 156 runners competed in the third annual race. Christina Douthit, nursing student volunteer said student volunteers from the OCCC Nursing Student Association and Student Physical Therapy Assistant Organization arose early Saturday morning in preparation for the Lifesaver 5K and 1- mile Fun Run.
"Our goal is to raise money for scholarships," she said.
Runners paid $22 to enter the 5K and $15 for the 1-mile Fun Run.
Registration started off very chilly at 6:30 a.m., when many participants arrived and began exercising for their run.
But the weather warmed up and ended with it being a beautiful day overall.
Zumba exercise dancing was on the list of many different activities going on that day.
"We are doing a warm-up to get people excited about the race, get their blood pumping early in the morning and promoting the Zumbathon," said Jennifer Ball, program director for Physical Therapist Assistant.
"We are just trying to promote healthy lifestyles," Ball said.
"If you are not a runner or a walker, there are other ways to show what we have here at OCCC."
Ball and Sandy Price, Zumba instructor at OCCC, were on stage dancing and getting the runners ready.
Several of the nursing and physical therapy assistant students who had registered to run said their prime goal was just to finish the race.
There were many things going on to keep the runners and children entertained throughout the day, including a free photo booth, massage therapists, food, popcorn, drinks and door prizes.
A favorite was an artist painting exquisite body art. The children and runners were lined up getting their faces painted while everyone listened to the live band, Countdown to Reno, who entertained participants with music throughout the day.
The first event of the day was the 1- mile Fun Run where there was a mix of all ages. After this run, all children who participated received a medal.
To contact Crystal Rodriguez,
email onlineeditor@occc.edu