Theater plans approved by college regents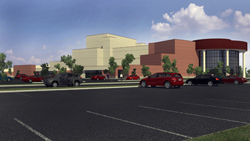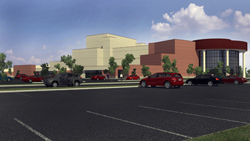 Click to view Theater Slideshow
In a unanimous vote Sept. 20, the OCCC Board of Regents approved design plans for the new Performing Arts Theater.
The 1,000-seat theater will be built inside the U-shaped area formed by the classroom portion of the Visual and Performing Arts Center, extending out to the west with a foyer and entrance.
Total cost for the project will be $16 million, said Regent James White. Private donations and other sources will supply about half the cost, while the other half is being funded by student revenue bonds and capital improvement funds set aside by the college.
Last week the committee as a whole and [architect] Walt Joyce of Triad Design group presented the design plans for the performing arts theater, White said.
The classrooms, which constituted Phase I of the project, were finished in 2008, White said. Phase II, the theater portion, was put on hold due to lack of funding.
White said the new theater has an anticipated completion date of December 2012.
"This is a very momentous time for our college," President Paul Sechrist said at the Regents meeting.
"The dream of a performing arts theater has been in the long-range planning ever since I have been part of this college," Sechrist said.
"Without the start the students gave us in terms of voting to support an $8 million revenue bond to accomplish half of the funding, we wouldn't be here today."
Members of The Leadership Council that voted yes to add a fee to build the theater will no longer be students when the theater is completed.
"This vote is very significant for OCCC," Sechrist said. "We are here at this moment in time because of the support of the students here at Oklahoma City Community College."
Diane Draper, diversified studies major, said the bond that will pay for half of the theater is a way the students can pay it forward.
"I think it will be a wonderful thing for students," Draper said. "I will be graduating in May but my daughter will be here. This is her first year and she will be able to utilize the facility."
Phillip McDonald, business major, agrees.
"I actually think it is a good thing, I was in music appreciation my first semester and we had to go to music presentations and I thoroughly enjoyed it. If I had more time I would have gone to more things that were there.
"It brings people from the surrounding communities, not just students, to really teach them about the arts," McDonald said.
The ceremonial groundbreaking is set for 2 p.m. Thursday, Oct. 7, Sechrist said.
The design plans and renderings will be on display outside of the Al Snipes boardroom near the admissions office.