Textbook options include renting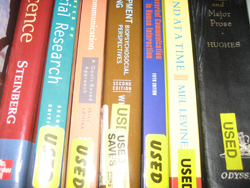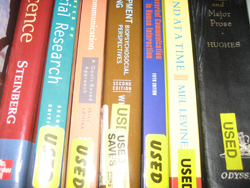 Textbook prices can break student bank accounts at the start of the new semester leading some to look for other options — such as renting those books.
At OCCC's bookstore, a majority of the books are available for rent instead of purchasing, said Bookstore Director Brenda Reinke.
"About 90 percent of our books are for rent," she said. "The pricing varies as far as what the rental savings are."
Renke said students will need a debit or credit card to secure the rental.
" … Just take them over to the kiosk and if they're available … , you rent them and you return them the last week of the semester," she said.
Diversified Studies major Mary Suthann said she prefers to rent her textbooks rather than buying.
"With the price of textbooks and tuition almost matching for the semester, having the option to rent makes a big difference," she said.
Reinke said students who damage or fail to return rented books are charged the difference between the rental price and the cost of the new or used book — which ever way they rented it.
Suthann said the risk of losing or damaging rented books is one she happily takes at the beginning of each semester.
"The small chance of me not being able to return [my books] at the end of the semester is completely overshadowed by the hundreds of dollars I save by renting."
Book rental availability can be searched at http://bookstore.occc.edu/SelectTermDept.aspx.
The site also offers the option to print a list to bring to the bookstore at http://bookstore.occc.edu/SelectTermDept.aspx.
For more information, contact the bookstore at 405-682-1611, ext. 7510.