Testing center extends hours for finals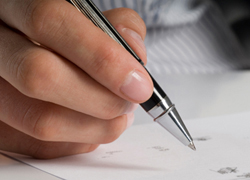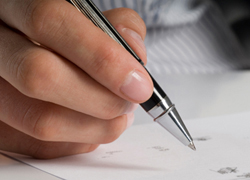 The Testing Center will offer extended hours during finals week, Dec. 12 through 17, said Jim Ellis, Testing and Assessment Services director.
That week the center will be open from 8 a.m. to 11 p.m. Monday through Friday. On Saturday, Dec. 18, the hours will be the normal 8 a.m. to 5 p.m.
Finals week testing always increases the number of people who use the Testing Center, Ellis said.
During finals week for the last four semesters, he said, an average of 3,500 students took tests in the center.
In 2007, when an ice storm hit on the Monday of finals week, more than 1,000 students tested on that one day.
Ellis said the Testing Center can usually keep up with the rush.
OCCC has enough testing space to accommodate a large number of people at one time, he said. The college uses all three of its testing rooms during finals week, although they typically use only two during the rest of the semester. Each room has 45 testing stations, which allows nearly 140 students to test at once.
"Before the current testing area was built, there were 20 testing stations and 20 computers — which doubled as paper-pencil testing stations when a rush hit," Ellis said. "There was usually a long line and a long wait during finals when I first stepped into the director's job."
The situation is much better now, he said.
If things are running smoothly, students should only experience a short wait for sign in and receiving their tests. The longest line is the one for the lockers, Ellis said.
He said students could help with this wait by leaving their belongings in their cars. Then they would not have to wait for a locker to open up.
"It's a no muss, no fuss thing," Ellis said. Personal belongings do include cell phones, which are not allowed into the Testing Center.
Ellis said there are three difficult problems the center's staff faces every finals week.
The first and most difficult issue is the photo ID. To take an academic exam, students must have a current OCCC identification card. There are no exceptions.
"No ID means no test," Ellis said.
The college records counter will be open to make student ID during normal hours of operation, he said.
The second issue is when students show up after closing time. Ellis said the staff does not have the authority to open up the center if a person comes in later than one hour before closing time.
The center will not give exams past one hour before closing. All exams will be picked up at closing time, no exceptions.
Ellis asks all students to please cooperate by turning in their exams when asked. To guarantee enough time for testing, professors require students to be inside the center at least one hour before closing to start the exam.
"It always amazes me that people who come late get so angry," Ellis said. "If they were late for their job, they'd be fired."
The final problem is when students come to take a test and do not know the instructor's name, the class identification information, or the test number. The Testing Center does not have this information.
This information is located in the faculty member's class syllabus, and a student is required to have this information before the staff can administer the test.
The same testing rules apply as always: personal items are not allowed inside the testing room.
Lockers are available for no charge to hold your belongings. Electronic devices are prohibited.
A test will be terminated if a student is seen with an electronic device during the test, Ellis said.
For more information about student use guidelines visit www.occc.edu/ACS.