Talk to legislators, incoming president says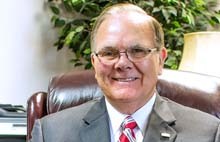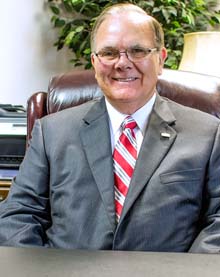 A class of journalism students learned their age group votes less often than any other age group in America.
Jerry Steward, OCCC's executive vice president, said in a speech April 23 that most people between the ages of 18 and 25 believe their state representatives don't listen to what they have to say.
"Therefore, they figure why bother to vote," he said. "You should bother because you live in a free country and if you don't bother, you're going to lose your free country."
He pointed out that politicians listen more to the people who can help them or hurt them at the polls, rather than those who don't "bother" to vote.
Steward recently was named the college's next president. He will take over after the retirement of President Paul Sechrist this summer.
Steward discussed the power of political engagement.
He encouraged students to voice their opinions concerning controversial issues, saying people should be contacting their state representatives and letting them know how they feel about these issues.
"That is where the problem lies," Steward said, referring to a college meeting he spoke at recently. When he asked how many opposed concealed weapons on college campuses, more than 100 people raised their hands.
When asked how many of them had contacted their state representative or senator to inform them about their opinion, only three or four raised their hands.
Steward believes the best way to influence elected representatives is through a personal visit to their office.
"In order to be successful when reaching out to a representative, it is critical to let them know you are their constituent," said Steward, who served in the state Legislature several years ago.
This is vital, he said.
"Politicians care about people who can vote for them or against them," he emphasized, saying the same was true for him when he was in office.
"They can beat you at the next election or vote for you."
Steward said the world of politics has changed a lot, primarily because of computers and the Internet.
While it used to take days or weeks to send out messages, now it can be done with just the click of a mouse.
"The way your generation does messaging has changed but the fundamentals haven't really changed that much."
He said face-to-face communication is best, but a personal phone call or hand written letter also has influence.
He said to make sure the elected official knows you live in his or her district.
Steward said he came from parents who didn't finish high school and a family that wasn't politically involved.
He, on the other hand, has loved the political game from the time he was in grade school.
Steward stressed the importance of being politically involved for the benefit of one's future and career.
He suggested the easiest way to get engaged is to volunteer for a political campaign.
By doing so, it is an opportunity to gain instant access and instant credibility with the official one has campaigned for.
"Politics is show business for ugly people," said Steward jokingly.
While there aren't any smart phone applications for voting currently. Steward suspects that, with technology, voting online will emerge someday.
Voting "apps" bring the possibility for increased political involvement as well as an increased number of voters. Steward's concern is that potential voting applications could make a difference but they won't make people vote.
After a 41-year relationship with the college, Steward believes that everything he has done and learned will benefit OCCC when he officially becomes president on July 2.
To contact Olivia Guerra, email onlineeditor@occc.edu