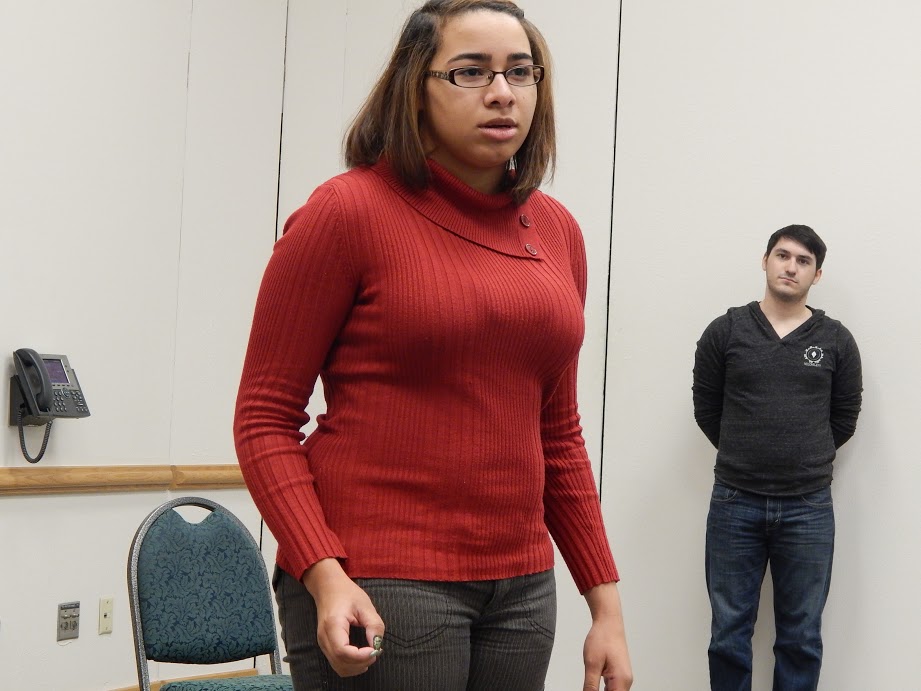 Child molestation and pedophelia are two of the topics raised in the play "How I Learned to Drive," which will be performed on campus Nov. 21 through 23.
Professor Brent Noel, director of Theater Arts, talked about the play at the Campus Voices lecture Nov. 13.
"The play tells the story of a disturbing relationship between a girl and her uncle," Noel said.
Noel, who directs the play,made sure to tell the audience of about 20 that if they felt uncomfortable during the preview of the play, they would be able to leave at any time.
Noel brought in Gregory Parks, a psychology professor who teaches a class in human sexuality, as well as two social service counselors to offer insight and help students if they needed someone to talk to.
The play tells the story of Lil' Bit, played by Tiffane Shorter, who is sexually molested by her Uncle Peck, played by Connor Marshall. The play also shows how she is able to deal with the bullying she receives at school.
"The story is told through a metaphor of learning how to drive a car," Noel said."One of the things we're looking at doing is how to discuss important sensitive issues in a respectful manner that does not avoid the topic. Sensitivity is required."
After a preview of the opening scene that described the relationship between Lil' Bit and Uncle Peck, Marshall told the audience that the play was challenging to him. He said the relationship he has built with Shorter has made it hard to be rude to her, which he is required to do while performing his role in the drama.
Shorter agreed that the play was challenging to her also, but in a different way. She explained that it was hard to portray an upset 17-year-old.
Noel then led an interactive discussion with the audience, explaining how the audience might react to the controversial nature of the play.
"The main issues the play deals with are manipulation, power dynamics, and the sexualization of young people, in this case a young girl," Noel said.
Parks said neither pedophelia nor incest occurs in the script, according to technical definitions. Pedophilia only applies to molesting a youth who hasn't gone through puberty, he said, while incest involves a sexual relationship between blood relatives.
Uncle Peck isn't a blood relative, Parks pointed out.
The play will open at 7:30 p.m. each night. Tickets are $5 to OCCC students and $10 for general admission and must be bought at the door. Thursday night admission is free to students if they have their student ID or an OCCC ID.
There will be a talkback session after the show Thursday night to discuss the issues of the play and the audience's reactions, Noel said.