Swim kids get their feet wet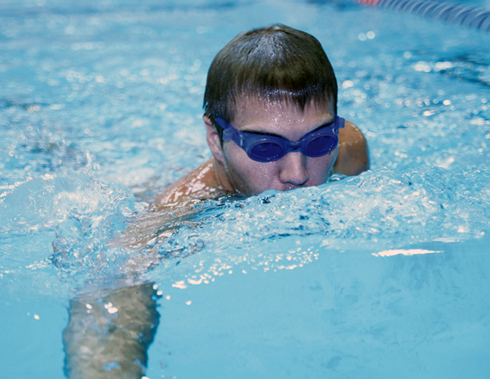 Rachel Morrison/Pioneer
Moore native Brandon Collins brings his cardio workout to the OCCC aquadic center pool during a break from his studies in acting at William Esper Studios in New York. Collins says he enjoys being able to come to the OCCC pool regularly while he's back home on break.
The OCCC Wellness Center is currently holding its summer-long Snoopy Squad and Peanuts Gang swimming program at the OCCC Aquatic Center.
OCCC Sports and Recreation Specialist Eric Watson said the program is now entering its sixth summer of operation. It is geared toward age groups ranging from 3 to 9 years old and presents children with a change to what may be an all-too-routine summer schedule.
"Most kids between these ages are usually in daycare more than half of summer," Watson said.
"So we developed a camp somewhat similar to the daycare experience but only they get a chance to learn to swim as well."
Snoopy Squad activity instructors Lindsey Baker and Aime Edwards said students have been enthusiastic about the program.
"We've had a really positive response from the kids in every aspect of the program and they seem to really enjoy themselves," Baker said.
"The parents that have been able to stay and watch their kids have told us that they like what they are seeing," she said.
Edwards, a program instructor for the past four years, has noticed the number of children enrolling has steadily increased each summer.
"There are more and more kids each year and I think the overall experience is the reason for that," she said.
Katie Philpot, a 2004 OCCC nursing graduate, whose children Joe, 6, and Emma Grace, 3, enrolled in the program, said she was impressed with the level of instruction they received.
"The staff are phenomenal and are excellent with the kids," Philpot said.
"Joe has gotten used to being in the water now and, with the level of attention that he and the other kids are getting, he is really doing well."
The out-of-water activities have been an additional bonus, Philpot said.
"With the story times, the learning activities and everything that is included with [the lessons,] it makes it a really great deal," she said.
The program runs in two-week sessions until Aug. 4 and enrollment is still open for the coming weeks.
Parents interested in enrolling their children may either enroll at the Recreation and Fitness Center Office, located just inside entrance WC1 near Parking Lot E, online at www.occc.edu/rf, or by calling 405-682-7860.