Swim club hopes pool can stay open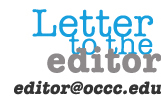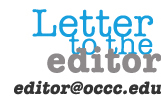 We are saddened to hear that OCCC plans to close its pool at the end of the summer. For 25 years, this facility has given countless children water safety skills that save lives, aspiring competitive swimmers a place to build their dreams, and adult swimmers a lane to maintain a healthier lifestyle.
It has played host to multiple daily practices and hundreds of swim meets from local to national-level meets that bring in some of the fastest national, collegiate and amateur swimmers.
Throughout this time, King Marlin Swim Club has enjoyed working with OCCC to meet the swimming community's needs and make a positive impact. The benefits are far-reaching and our community is the greatest benefactor.
Today, when interest in swimming is at an all-time high with the growth of competitive swimming in the state more than doubling across the nation over the last five years, we hope that all possible solutions can be explored.
KMSC is a competitive USA Swimming team serving more than 250 novice through elite-level atheletes with locations at OCCC in south Oklahoma City, The Lighthouse in northwest Oklahoma City and Mitch Park YMCA in Edmond.
The team was created in spring 2014 by longtime Oklahoma City area coaches John Brown, Kathy Mendez, and Josh Everett.
To contact John Brown, email onlineeditor@occc.edu