Suspect in multiple campus thefts apprehended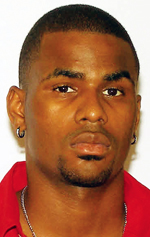 Craig Ralls
Several thefts took place on campus recently including the Wellness Center and the bookstore.
One string of thefts that began earlier this year has been attributed to former OCCC student Craig P. Ralls, 21.
On Nov. 18 Brenda Reinke informed campus security that a book, valued at $172.67, had been stolen from the bookstore.
Bookstore video footage shows a suspect identified as Ralls placing the book under his jacket, then leaving the bookstore and campus.
An incident report shows campus security were unable to respond in time to apprehend Ralls.
Ralls also is a suspect in previous bookstore thefts, according to earlier reports.
Reinke said she isn't authorized to comment about the situation.
Ralls is believed to have struck again Nov. 19 when campus security took a report of a stolen backpack in the Wellness Center.
Sergio Lopez reported he placed his backpack in a cubby across from the Wellness Center cage.
He said he returned from his workout to find his backpack missing.
Video footage shows a suspect identified by OCCC security as Ralls taking the backpack and leaving the area.
A few days later on Nov. 22 Ralls was seen by an OCCC security officer entering the library.
Oklahoma City police were called and told a suspect in several OCCC thefts was on campus.
According to the report, when officers arrived, Ralls was confronted and a foot chase ensued. Ralls was eventually apprehended by OCPD and charged with grand larceny.
Oklahoma State Courts Network (www.oscn.net) shows Ralls has several charges for thefts and drug possession pending in both Cleveland and Oklahoma counties.
Ralls is a former OCCC student who, on his personal Facebook page, describes his occupation as "gettin money."
Readers can follow updates on the story at the Pioneer Online www.occc.edu/pioneer.
In an unrelated incident, a theft was reported around 8:30 a.m. Dec. 1 at OCCC's Family and Community Education Center off campus.
Jennifer Cheney said she left her purse containing her wallet in her backpack in a classroom while she went outdoors to smoke. She said a while later, when she retrieved her wallet to buy something from a vending machine, she noticed $50 was missing.