Super villain charms all ages in 'Megamind'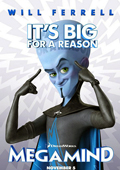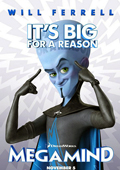 Will Ferrell delights kids and adults alike in DreamWorks' new animated film, "Megamind."
Directed by Tom McGrath, of the Madagascar films, "Megamind" is a goofy, intelligent look at the flip side of superheroes, the supervillain.
At just eight days old, Megamind's parents send him and his devoted sidekick Minion (David Cross) to Earth in an attempt to save him from the black hole that is consuming the planets in his galaxy.
To his disdain, there is another alien baby sent from a different planet whose parents have the same idea.
Both kids land in Metro City but are raised under very different circumstances. Megamind's rival is raised in a wealthy albeit oblivious home while Megamind lands in The Prison for the Criminally Insane.
As a child, Megamind is taunted for his mischievous intellect. As he gets older, Megamind realizes he can have more fun as a villain than as an outcast.
His arch nemesis eventually becomes Metro City's protector, Metro Man (Brad Pitt), and years of rivalry between the superhero and the supervillian ensue.
Pitt, for his small part, is dry compared to the genius comedy of Ferrill.
Tina Fey, who plays reporter Roxanne Ritchie, is a perfect counterpart to Ferrill's Megamind. Her witty banter is more for an older audience but won't go unnoticed by kids.
When Metro Man is destroyed in a showdown with Megamind, Megamind becomes bored of life. Without his adversary, he invents a machine that gives humans superpowers so he will have someone to battle and make life interesting once again.
Ritchie's cameraman, Hal Stewart (Jonah Hill), accidentally becomes Megamind's unknowing super heroic subject. Hill does a good job of playing his funny self as he does in all of his films.
With a soundtrack including "Loving You," "Bad to the Bone," and Elvis Presley's "A Little Less Conversation," Megamind is a rollercoaster ride of great music, killer animated action, brilliant comedy, and a whole lot of heart.
Megamind is geared more toward an adult audience and is for anyone who has ever rooted for the underdog.
As with most animated films these days, Megamind is also available in 3D.
Rating: B+