Those needing a ride to and from OCCC can hop on an Embark public transportation bus at the stop in front of the Main Building.
The main line for metro area residents is likely to be the 012 S May route connecting to downtown, said Embark Public Relations Agent Michael Scroggins. He said the bus runs every 30 minutes — from 6 a.m. to 7:30 p.m.
Scroggins said the S May route has enough connections to get a passenger across most of the city within reasonable business hours.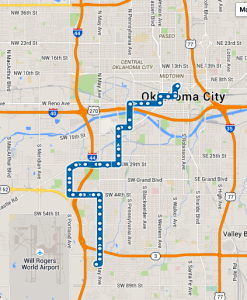 Fares start at $1.75 but a variety of bus pass deals can be found online ranging from one day to one month unlimited bus passes, he said.
There also are a few 30-day bus passes available in the OCCC bookstore, discounted to $35 from the usual $50.
Although that program was a pilot and expired in May, Scroggins said, Embark officials are reviewing the results and may move forward with a more permanent program to facilitate transportation for OCCC staff and students.
The Community Action Agency of OKC also has a limited number of bus passes available for OCCC students with logisitical and financial limitations.
CAA can be found at caaofokc.org or reached at 405-232-0199.
For those with a qualifying disability, over the age of 60, in possession of a Medicare card, or between 7 and 17 years old, reduced fares are available through Embark's sharefare program.
Valentina Vancuren, Embark's representative for the program, said it is almost exclusively for individuals with physical disabilities rather than financial difficulties.
Vancuren said applications can be found online at http://embarkok.com. For more information, contact 405-235-RIDE (7433) to learn more about scheduling and sharefare.
Scroggins said Embark also hosts Ozone Awareness day on the third Friday of each month when bus fare is free.