Suicide awareness workshop teaches prevention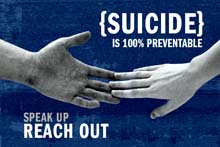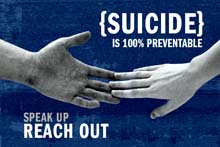 It has been shown time and time again that the human capacity for compassion can — even in times of extreme duress — save a life, said Janey Wheeler in a suicide preven­tion and awareness workshop on campus Feb.19.
Wheeler is a licensed mental health counselor on campus. She spoke to about 20 people.
Wheeler outlined the QPR strategy in helping someone who voices thoughts of suicide or speaks of hopelessness that might indicate life is not worth living. QPR stands for Ques­tion, Persuade, Refer.
Wheeler said people some­times avoid questioning some­one who might be having trouble for fear of saying the wrong thing or not knowing what to say.
However, she said, the first step in QPR is to do just that — ques­tion.
She offered sample phrasing, such as: Have you been unhappy lately?
A more direct ques­tion might be: Are you thinking about suicide?
But in the end, how you ask isn't as important as asking period, Wheeler said.
"Many of those who attempt suicide often say, 'If just one person had taken the time to ask me if I was OK, I wouldn't have tried to attempt suicide.'"
If a person acknowledges having suicidal thoughts, Wheeler said, your goal is to persuade them to seek help. Then, refer them to profes­sionals who can address the problem. Wheeler said OCCC has mental health counselors on staff to see students who may be in crisis.
Students can go directly to Student Support Services and ask to see a counselor, and they will be seen right away, she said.
Short-term mental health counseling is available on campus, Wheeler said. And short-term counseling is what is most often needed.
For longer term care, OCCC counselors specialize in re­ferring students to exactly the help they need, she said. The counseling office can be found on the first floor of the Main Building. Counselors can be contacted at 405-682-7523.
Wheeler stressed that if you or someone you know or love, is thinking about suicide to not ignore it. People often need someone to acknowledge them and their suffering, and be there to listen. Not taking the time to ask can have dire consequences.
Wheeler said suicide is the second highest cause of death for the youth of Oklahoma, according to 2010 statistics.
She said that study showed, nationally, one out of every 15 high school student attempts suicide each year.
The National Suicide Preven­tion Lifeline has volunteers and staff who answer calls all through the day and night, of­fering compassionate listening, crisis intervention, referral in­formation and suicide preven­tion. They can be reached 24/7 at 1-800-273-TALK.
"Always remember to follow up on someone you refer to help," Wheeler said. "Let them know that you care enough to check up on them."
She said if a person is confid­ing in you and even allowing you to help them, this is very important. They have to believe you are being genuine.
If you wish to know more about QPR or other aspects of suicide prevention, Wheeler can be contacted at 405-682- 1611, ext 7131, and can also be reached at janey.wheeler@ occc.edu
To contact Christopher Plunkett,email onlineeditor@occc.edu