Students will have new nursing labs this fall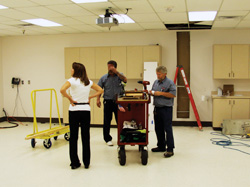 Assistant Nursing Program Director Deborah Myers, talks to technicians from Facilities Management July 20, as she inspects the progress of new labs. (Jeremy Cloud/Pioneer)
Students in the nursing program this fall will be able to practice their assessment and other skills in three new nursing labs.
The labs are located on the first floor in the Health Professions Center, said Assistant Nursing Program Director Deborah Myers.
Myers said in the past the faculty had to pair the nursing students and juggle the lab time in a single classroom.
The new labs would ensure the students get the experience they need, she said.
"There will be more lab space for everyone to be working in a lab setting," Myers said.
The labs, which will have tile floors, cabinets, sinks, and mobile desks and chairs, will be used for hands-on practicing skills, she said.
Myers said one lab will contain simulators, which are dummies used to practice hands-on skills.
Another will be the practice lab for skills that do not require a simulator, she said.
The other lab will have beds and a classroom in it for theory involvement and assessment work, Myers said.
Kayli Burbridge, nursing major, said the new labs would provide a better learning environment for all nursing students.
"I think the new labs will be a good opportunity for all the students to be able to practice the hands-on skills required to succeed in nursing," Burbridge.
Myers said the construction on the new labs started in May and is around 80 percent complete.
She said the project was budgeted for about $43,000.
The remodeling is being funded through the OCCC funds for renovating and updating, Myers said.
She said building the labs came as a recommendation when the Oklahoma Board of Nursing visited the HPC last October.
"They recommended that we expand the lab space for the students," Myers said.
To contact Alyson Cook, email onlineeditor@occc.edu.