Students serve up volunteer work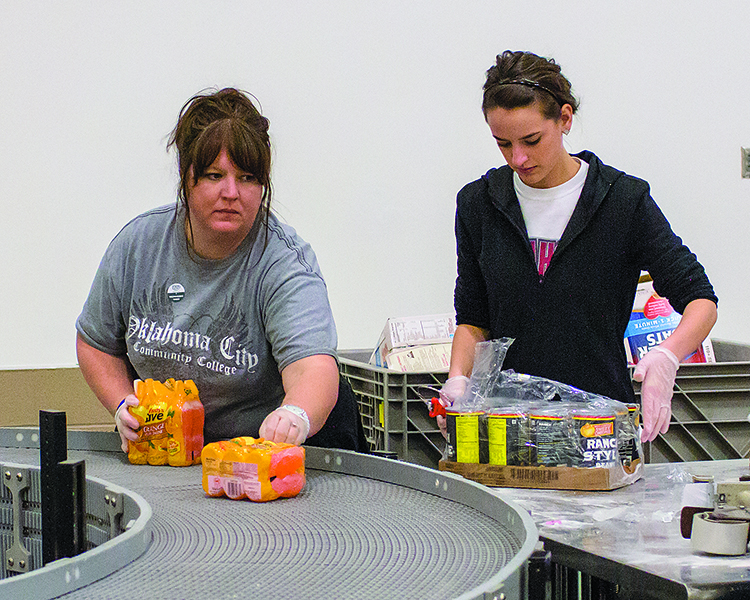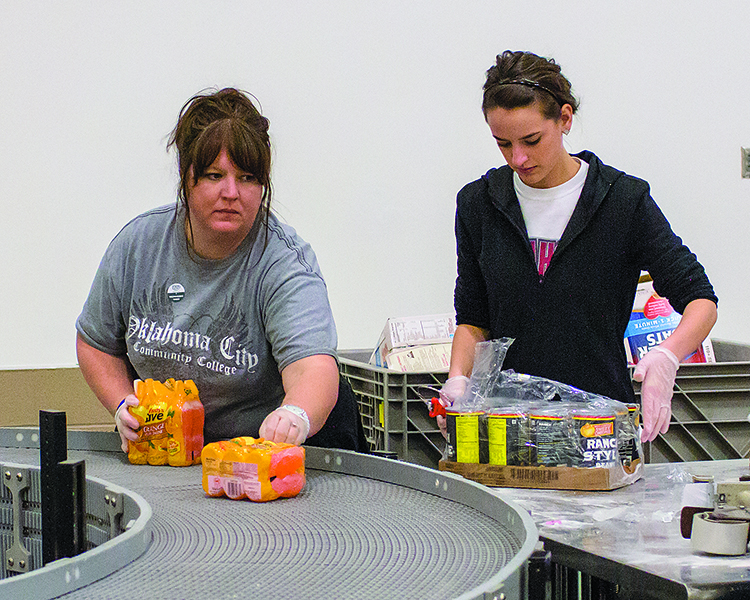 OCCC students set a new record for sorting at the Regional Food Bank. Forty students attended the food bank service learning trip from 8 a.m. to 4 p.m. Saturday, March 9 at the Oklahoma Regional Food Bank, helping set a new record.
"We went through 63 cases, and each case weighed about 450 pounds," Janelle Hanson, Student Life program assistant said. "According to the USDA the equivalency for one meal per person is 1.3 pounds. We sorted 21,808 equivalent meals for people based upon that."
Students sorted and packaged household items and food at the food bank, she said. The food bank provides a team leader to encourage, support and answer questions for students while they are sorting. The leaders are also there to help guide and make sure students are sorting correctly, Hanson said.
Hanson said the team leaders are like the student's own personal cheerleaders to get them to do more and more things.
"It's really fun," she said.
Psychology and sociology major Anna Morgan said she volunteered for the first time at the food bank. Morgan said she was not sure of what to expect as a first-time volunteer.
"We were able to sort through 28,350 lbs. of donated food in five and a half hours. We all worked very hard, but not once did it feel like work," she said. "I was pleasantly surprised by what went on there. The level of teamwork and dedication displayed by everyone in our group was amazing.
"I felt proud that I was able to be a part of helping my community, not to mention how much fun I had," Morgan said.
"[The food bank service learning trip] was a really positive trip; I think everybody had a good time. The students worked really hard and did an excellent job, because it is not easy work and not necessarily clean work." Hanson said.
Hanson said the food bank provides gloves and aprons for the volunteers. She said they also provide snacks and drinks to student volunteers, as they take a break every hour and a half because it is hard, physical labor.
Student Life provides for the students a sandwich and chip lunch since they stay almost all day, Hanson said. Student life also provides transportation for students. Students meet at the Student Life office and leave in an OCCC van to the designated place.
Hanson said the food bank service learning trip is one of the nicer ones to attend because the food bank is well organized. If students cannot attend a service learning trip, Hanson said, they are welcome to schedule their own service learning trips through the volunteer agencies.
The Student Life office has a volunteer agency packet. The packet can be picked up in the office or viewed on their online website, she said. Hanson said the other service learning trips offered include adopt-a-street and Christmas connection as well as others which can be viewed online at www.occc.edu/studentlife or in the Student Life office.
The food bank service learning trip is held 2- to- 3 times per semester. The trips are held, "to empower students to become community assets," because when students are involved in the community it helps make them more aware of the outside world, Hanson said.
For more information, visit Student Life located on the first floor of the Main Building or call 405-682-7523.