Students question textbook prices, updates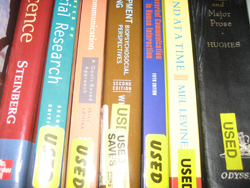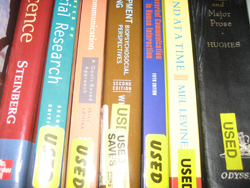 Almost all college campuses have students who are shocked by textbook prices and left wondering why books cost so much.
Some speculate the prices are high because publishers issue new textbooks more often than necessary, forcing students to always buy the higher-priced textbooks as opposed to buying used books which, typically, are significantly cheaper.
Cyber security major Daniel Cox said he is allotted $500 from Veterans Affairs for books per semester, and uses every penny of it.
Cox is one student who believes publishers issue new editions of textbooks more often than necessary in order to drive up profits.
"It's a way for the corporations to make large amounts of money — capitalism at its finest," Cox said.
When a new edition of a textbook is issued, the college bookstore won't buy back the old edition, and no used books are available for purchase.
Bookstore Director Brenda Reinke said she understands the frustrations of students and teachers because she teaches a class.
"I was able to say, because I also teach, that depending on the relevance of the book, and how often the information changes, is what dictates if an old edition can be used or not," Reinke said.
"I tell my students that I will be teaching out of the new edition, and if they think they can make it with the old book, I can't tell them no."
However, Reinke said, students should consider that course content involving technology or medical topics is especially subject to change, and students should consider that before trying to get by with an old edition.
Cox said he does know of professors who will work with students who can't afford their books and some who will say if an older edition can still be used.
Student Hartley Tyler, a recent high school graduate in her first semester at OCCC, said she had heard about how expensive textbooks were from some of her friends, but was still startled when she experienced the costs firsthand.
Nevertheless, she said, she is philosophical about the cost.
"I have a lot of friends at [the University of Oklahoma], and compared to what they paid, I think I am pretty lucky," Tyler said.
Reinke said OCCC ranks below the national average in textbook prices. She said all textbooks are marked up 25 percent over the cost, or wholesale price.
Micheal Wood, an employee at Textbook Brokers, a local bookstore, said he agrees publishers are profit driven.
"Normally the newest editions are made to make the publishers more money, and all that is really changed are the chapters and sections maybe switched around, even just the page numbers," Wood said.
Wood said, despite that, his store tries to keep prices down.
He said students can typically buy books there for less than the OCCC Bookstore.
Wood said a new college algebra textbook at his store costs $49.99.
In the OCCC bookstore, the same book costs $87.10.
He said a music appreciation book his company had just received sells for about $134 from a campus bookstore and $114 new from Textbook Brokers.
The old edition is still accepted by most professors and sells for $55.
"Our newer books are usually around 10 percent off compared to campus bookstore prices, and used books of an old edition can be 30 to 50 percent off," Wood said.
Students have other choices as well.
Cox said he goes online to shop for better prices.
"I also use websites like Amazon to find books that are half to a third of the price," Cox said.
He said, whenever possible, he buys textbooks in an electronic version for his iPad.
Reinke said college administrators are aware of the burden of textbook costs and are looking for ways to help.
One proposal is for students to rent textbooks instead buying them.
At the end of the semester, the student would return the textbooks so they could be rented to others. Reinke said.
She said this method may not save students much because many of them sell their textbooks back at the end of the semester for about half what the books cost new.
For more information about OCCC Bookstore prices, contact Reinke at e-mail breinke@occc.edu or visit bookstore.occc.edu.