Students prepare to say goodbye to class, cadavers
The following story is the final part of a three-part series on OCCC's Human Anatomy course where students are working with human cadavers. Part one of the series ran in the Jan. 30 issue of the Pioneer. Part two ran in the March 13 issue.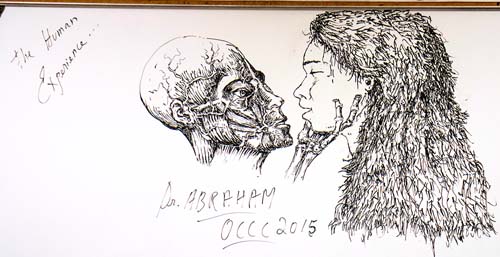 With only nine days left inthe semester, Jordan Garner said she still doesn't know if she will pass BIO 2255.
"I won't know until after the final," she said.
Garner said the course, where students work with human cadavers to explore anatomy, is known for being difficult. She often felt a great deal of stress, she said.
And once or twice she briefly entertained the notion of dropping the class. But, she said, her classmates provided a valuable and necessary support system to keep her going.
"It's just a really tough class, but it's nice to have people in there and we all try to help each other out," Garner said,
"You know you're not alone so it's OK."
Johnny Wong, who has taken the course once before, said it was his only class this semester and it was familiar territory so he didn't feel overburdened.
Wong said he did notice the tension among his peers and hopes he helped them in some way.
The best part of the class was his classmates, Wong said. He said he hopes to have made some lasting connections with those he worked alongside this semester.
In spite of the stress and hard work, Garner said, she enjoyed the class immensely and is glad to have taken it. And, if she has to repeat the course, she said that's OK.
Garner said she relished the teaching style of Biology Professor Nathaniel Abraham whose use of a refrain from a Backstreet Boys song and some profound artwork kept things interesting and enjoyable even when the work was difficult.
"He is super funny," she said. "But he really tries to teach you how everything is connected and how not just to apply things to class but how everything relates in the outside world."
Wong agreed.
"He's a pretty cool guy," he said, "He definitely knows a lot. He wants you to learn more than you need to learn so that instead of just knowing what something is, you get to learn how it works.
"If you take Abraham before physiology it's a good thing because he pretty much gets you ready to get into the physiology course."
The most astonishing moment of the course, Garner said, was a demonstration where air was pumped into the cadaver's lungs, inflating them to their full size and showing how they function.
"I'm more knowledgeable about the body, big picture wise," she said. "I guess I've learned a lot more about myself."
Garner said she's gained a new understanding of the permanent effects of one's everyday choices upon their body.
"It was really cool to see that even though a person's dead, their organs can still be made to work," she said.
"It made me really think about whether I'd donate my body. I'm really thankful to whoever the person is because it helps me learn more … ."
She said she wouldn't have considered donating her body before but now might.
"So yeah, I guess it's kind of weird — it feels like saying goodbye to the cadaver," Garner said.
Wong said he was able to stay detached.
"It feels different from looking at a living person," he said. "It doesn't feel like an actual person."
Wong said he still isn't sure if he's prepared to work on live patients but he hopes that's in his future.
"It's too soon to say," he said. "That depends on what happens once I get into the nursing program."
His hope, he said, is that he will be working in hospitals in a few years, using the knowledge he's gleaned from the cadavers at OCCC to improve the lives of the people around him.
Garner's hopes are similar.
"Hopefully in five years," she said, "I'll see myself as a registered nurse in a psychiatric hospital."
She said she hopes to enter the nursing program this summer.
Wong said he will be happy to begin his path through the nursing program in the fall. To contact Jorge Krzyzaniak, email seniorwriter@occc.edu
Related Article: