Students may see healthier food options in Cafeteria, manager says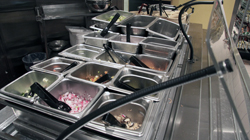 Containers of vegetables sit behind the salad bar July 21 inside Carson's Cafeteria. The eatery is looking to add more healthy options to its menu, including gluten-free and vegan menu items, said Corrine Aguilar, Carson's general manager. (Whitney Knight/Pioneer)
Students looking for healthier food choices or those who are diabetic, on gluten-free diets or vegan may soon find more offerings in the cafeteria, said Corrine Aguilar, Carson's general manager.
Aguilar said she plans to expand the healthy options in the College Union lunch area to include meals and foods that are more health and diet centered.
She said she has already made a small version of the menu that will be available soon, and will have it enlarged in the cafeteria.
"I want everyone to have options and right now a lot of people are trying to eat healthy, so we are trying to do our part," Aguilar said.
Carson's has received criticism for not caring about its customers, she said, but that is not the case.
Aguilar said there is a variety of healthy options including grilled chicken, fresh sandwiches and a salad bar.
She also is in talks with Carson's management about incorporating diet-specific foods into the menu such as vegan, diabetic and gluten-free options, she said.
Students with gluten intolerance, or Celiac Disease, are allergic to wheat barley and rye, which are found in corndogs, pizza and any other dishes that include wheat, flour or oats.
It is a severe food allergy that must be controlled by a specific diet, according to www.webMD.com.
The website said failure to follow the diet can result in fatigue, depression, loss of focus and, in long-term situations, cancer.
"I think it's important to give people with those restrictions more options," Aguilar said. "The main obstacle with ordering gluten-free foods is the fact that they are generally more expensive than regular meals."
Aguilar's first step is to continue her research of gluten-free foods and hopefully have gluten-free cereals this coming academic year, she said.
Shaun Hajjari, microbiology major, said Carson's was already doing a lot to provide healthy choices.
Hajjari said he was drawn to the cafeteria because he noticed the healthy choices.
"I noticed that they were serving grilled chicken and it seemed like the healthiest choice," he said, "Especially because we can actually watch them grill the food."