Students living on their own could use advice column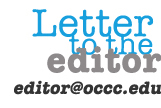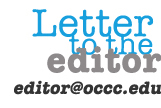 To the Editor:
I am writing you in regards to an idea for a column.
So many of your students are new, young adults.
All of us move out for the first time at least once in our lives and, unfortunately, do not know what rights or responsibilities we have.
What caused me to write about this idea initially is, over the holiday weekend, my air conditioner went out.
I am out on my own for the first time (I had lived with my boyfriend for five years, but he took care of everything maintenance-wise).
Maintenance has been out three times since May 27 to recharge my air conditioner. From what I understand, freon is supposed to have a 100 percent return, no matter how long it sits. This is cause for slight concern, mainly for our environment.
I am working with a friend who is a paralegal to clear this up, but how many students go without, not knowing what their rights are?
You could even extend it to rights and responsibilities of adulthood.
So many people just don't understand what being an adult truly means.
Anyways, thanks for your time.