Students learn about life-saving drug during event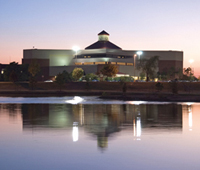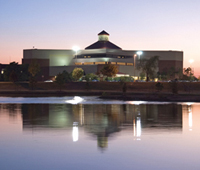 More than half the people in the audience raised their hands when the speaker asked if they had known someone who had problems with drugs.
About 45 individuals had come to hear Young Onuorah, Senior Prevent Program manager from the Oklahoma Department of Health, speak on "Preventing Prescription Drug Abuse and Misuse."
He spoke on campus April 8.
"Over 23 million people in the United States are addicted to drugs," Onuorah said.
"From 1999 to recent years, Oklahoma has seen a 400 percent increase."
Onuorah paused to adjust his rimless eyeglasses after making this statement.
Silence in the room followed the information.
He is originally from Nigeria but said he has been in Oklahoma for quite awhile.
Onuorah said, in 2010, enough prescription medications were abused in the U.S. to medicate every single American for more than a month. Unfortunately, that year 16,651 people died from overdose.
"There is an idea that these people are typically criminals," Onuorah said. "Most of the time, however, they are not."
Oklahoma rates among the top five states in the U.S. for high prescription medication abuse and misuse.
Lack of education is a problem concerning misuse of prescription drugs, Onuorah said.
Certain combinations of medications can cause accidental deaths, he said.
In fact, 78 percent of the deaths that occur are accidental.
This ranges from improper mixtures of medications, to people simply becoming immune to the strength of the dosage and taking more than recommended.
Fifty-eight percent of these accidental deaths occurred from pain killers, Onuorah said. In recent years opioid-related deaths outnumbered those from alcohol, even when drunk driving was included.
Those who tend to abuse prescription drugs usually have an underlying condition, Onuorah said.
"At least 50 percent of the people had a mental disorder and that is why they become a user," he said.
"They are trying to fix the problem."
During the speech, many in the audience stayed attentive, taking notes and soaking in the details.
Others simply shook their heads.
"There is hope though," Onuorah continued. "Naloxone is an antidote that can save someone's life by simply spraying two pumps into the nasal cavity of someone who has just overdosed. This can prevent death."
He said that bills have passed in the Legislature.
As of Nov. 1, 2013, a law took effect, allowing family members of someone who may be at risk to get it as a prescription and carry it up to four years.
Naloxone was originally a syringe injection medication but has been created to use risk-free as a nasal spray.
The introduction of this drug happened in Oklahoma after Austin Box, a former University of Oklahoma student, overdosed his senior year in 2011 from prescription medication which he had been given for pain.
He would have been the starting middle linebacker that year. He was 22.
His mother, Gail Box, started publicly speaking about the misuse of prescription medications and how people should protect their loved ones by saying something as soon as they have an intuition that something is wrong.
Naloxone works by blocking the effects opiates have on the nervous system. It reverses shallow breathing, low blood pressure and even death.
It can be used on any opiate ranging from Oxycodone to heroin.
When asked by Onuorah, no one in the room had heard of Naloxone before.
"This is why you need to be advocates and spread awareness," he said.
Onuorah encouraged the knowledge of the drug be spread to the masses so that people can request a prescription from a medical professional if they feel it may be needed.
There are 18 states that have passed the Naloxone access law.
One member of the audience, Madeline Lewelling, is a legal assistant who said she is married to a drug and alcohol counselor.
"Even I did not know how much we had to do ourselves and as a state," Lewelling said.
Dana Culton, OCCC Professional Development coordinator, said she just became aware of Naloxone.
"It is sad to know that no one knew you could have help right on hand for these people," she said, voicing her thought that Naloxone should become available to everyone.
The presentation ended in applause.
For more information, email Onuorah at yonuorah@odmhsas.org.