Students invited to free tour of museum all month


Throughout the month of September, college students across Oklahoma — including OCCC — will be able to visit the Oklahoma City Museum of Art, located at 415 Couch Drive in downtown Oklahoma City, free of charge.
Bryon Chambers, assistant education curator, said this is the first time OKCMOA has offered the event, called College Month.
"College Month is our opportunity to invite students from all Oklahoma universities and colleges to experience our museum," Chambers said.
Students only need a valid student ID to gain admission into the museum, located at 415 Couch Drive in Oklahoma City.
English professor Jeff Cleek said he is encouraging his Modern Humanities students to take advantage of College Month by offering extra credit for students who visit the museum and complete a one-page paper about their experience.
"The only way to get a full impression of art is to see it in person," Cleek said. "When you're looking at a reprint, or something online or in a textbook, it loses something.
"Seeing artwork in person allows you to see the piece in its proper size and colors, as the artist intended.
"You could see the Mona Lisa 200 times on paper, but seeing it in person would be an entirely different experience."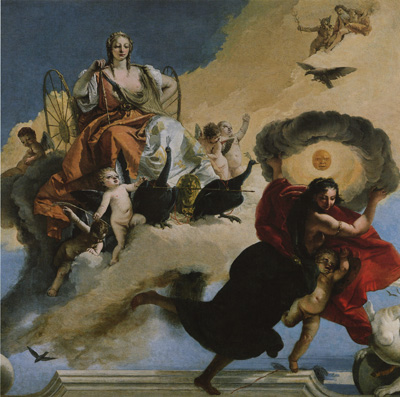 "Juno and Luna," an oil painting to be displayed in the Oklahoma City Museum of Art's "La Serenissima" exhibit.
"It's absolutely free, and it's a really nice museum," he said.
"If you go there, you'll find pieces you like and some you don't," Cleek said.
"But your time will not be wasted."
Chambers said students can visit the museum as many times as they like throughout the month.
He said he hopes many students take advantage of the event.
"Any opportunity we have to get involved in the community, any opportunity we have to make culture a part of college students' lives, is an opportunity we're going to take," Chambers said.
OKCMOA has hundreds of pieces of artwork available for viewing, he said, including "Intersection," a series of large-scale, steel and aluminum automobiles created by University of Oklahoma Professor Jonathan Hils.
Chambers said another new display, "La Serenissima" — Italian for "the most serene" — focuses on 18th-century Venetian art.
The works featured in the exhibit cover Italian art in the age of the Grand Tour and through the decline of the Republic, brought about by Napoleon's invasion of Italy in the last decade of the century, he said.
"We're very excited about 'La Serenissima,'" Chambers said.
If College Month is a success this September, he said, he anticipates OKCMOA will make it a yearly event.
OKCMOA is open from 10 a.m. to 5 p.m. Tuesdays through Saturday and noon to 5 p.m. Sunday. The museum is closed Mondays.
For more information, call 405-236-3100, or visit the OKCMOA website at www.okcmoa.com.
To contact Whitney Knight, email onlineeditor@occc.edu.