Students get chance to meet with deans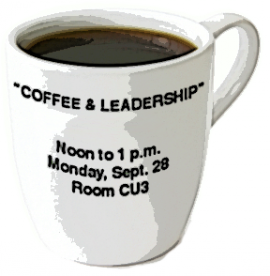 Students will have the chance to meet face-to-face with college leaders at noon Monday, Sept. 28, at "Coffee & Leadership," a student and academic dean discussion.
Student Life Coordinator Travis Ruddle said it's a chance for students to get to know the deans of nearly every division and to learn what they've accomplished.
"We're going to be able to talk about leadership … get to know deans, their biographies, what they've had to accomplish to be where they're at in leadership," Ruddle said.
"It's a good sounding board for students to ask questions that they normally cannot ask, that they don't have the opportunity to (ask)."
Ruddle said nearly every OCCC dean will be present, providing an array of academic backgrounds.
Those attending are:
Arts Dean Ruth Charnay.
Business Interim Dean Greg Gardner.
Chemistry and Biological Sciences Dean Sonya Williams.
English and Humanities Dean Kim Jameson.
Health Professions Dean Thomas Kraft.
Information Technologies Tom Ashby.
Mathematics, Engineering and Physical Science Dean Max Simmons.
Simmons said in his position, leadership means something unique.
"Leadership means making people aware of what's going on, in my case," he said.
"Faculty, students — I'm kind of an information conduit from higher administration to the faculty and back from faculty to higher admin."
Simmons said a skill he has learned in his position is to listen carefully and to get all sides of a story.
"You learn to listen to all sides of interpersonal dispute before you make any decisions at all," he said.
"The first person to get to you often has a really great story and you'll want to charge out there and solve their particular issue for them," Simmons said.
"But after a while you learn that you need to get more facts before you start doing that."
Ruddle said all students are welcome to attend the discussion and ask questions.
"Don't feel intimidated by it, by any means," he said.
"This is an opportunity for [students] to show the deans how not only can they be proud of their students, but also for them to really ask questions and find out some really amazing stories perhaps."
"Coffee & Leadership" will be from noon to 1 p.m., Monday, Sept. 28, in room CU3.
For more information, email Student Life at studentlife@occc.edu or call them at 405-682-7523.