Students explore campus with hunt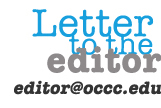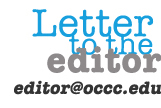 The Pioneer is running a scavenger hunt for OCCC students through the summer semester.
The first clues ran in the June 24 issue and can be found on the classifieds page.
The last clues will run in the July 22 issue, for a total of five locations here on campus.
If you've missed some of the earlier clues and still want to participate, visit our website at www.occc.edu/pioneer and click on archives to view past editions of the Pioneer.
We've gotten some really good response from participants so far and the staff here is looking forward to awarding the prizes to our winners.
Photos can be e-mailed to editor@occc.edu or onlineeditor@occc.edu.
Please include your name, major and phone number with your photos or a working link to your photos.
Winners will be chosen by July 27 so be sure to get your photos in.