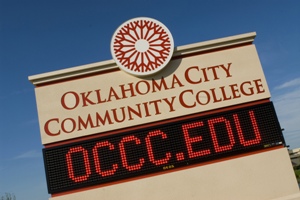 With the fall semester fast approaching, OCCC students still seeking monetary assistance should look no further than the Financial Aid Office, said Financial Aid Director Sonya Gore.
If they haven't already done so, Gore said, the first thing students should do is submit the Federal Application for Student Aid (FAFSA) found at www.fafsa.gov.
There are different types of federal aid unique to each student, she said, and often students are not sure if they qualify.
"If students meet the criteria, they can be awarded a federal Pell grant or qualify for subsidized or unsubsidized loans," she said.
When students qualify for the federal Pell grant, Gore said, they don't have to repay the award amount — though class attendance is crucial.
"Students are expected to attend class and complete their coursework successfully," she said.
"If they withdraw or are administratively withdrawn for not attending, they could owe money back to the Pell program … because the assumption was, when they gave them that grant, [the student] was going to go to class.
Gore said students also may qualify for federal work-study funds. Students who accept those funds are awarded money to perform work on campus.
Unlike grants or work-study money, loans must be paid back, Gore said.
Subsidized loans means the government pays the loan interest while the student attends school and unsubsidized loans mean the interest accrues while the student attends school.
"We have to offer subsidized loans first, but some students don't qualify for them," she said.
"If students don't qualify for the Pell grant or subsidized loans, they can be offered unsubsidized loans."
When students apply for federal loans, Gore said, they don't have to pay them back while attending school. Once a student graduates or stops attending class, she said, there is a six-month grace period before a student has to start making payments.
"In general, students have a six-month grace period and they have to stay in touch with their lender," she said. "If students have financial difficulties, there's hardship forms that can be filed, so it's important that they stay in touch with their loan service provider to make sure their loan stays current."
Gore said students have until the end of 2014 to submit their FAFSA and qualify for aid for the fall 2014 semester or spring 2015 semester.
For more information, visit the Financial Aid Office located in the Main Building, call 405-682-7572, or visit http://www.occc.edu/financialaid/index.html.