Students create orientation video for freshmen
Two students from the TRiO program are creating a special student orientation video for incoming freshmen this fall.
Lisa Shaw and Aaron Kimberlin are very excited about giving back to the program that afforded them the opportunity to participate in an international service learning experience in the Dominican Republic, said TRiO Director Lathonya Shivers.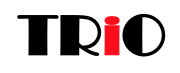 Part of their obligation, in return, was to perform a project for their school back in Oklahoma.
Shivers said the video will outline the opportunities available in TRiO, as well as the experiences Kimberlin and Shaw had while in the program.
"The video will expose students to the endless possibilities that TRiO offers," she said.
Shivers said Kimberlin and Shaw recently were the only students selected from OCCC to go to the Dominican Republic. She said that shines a light on TRiO because if it were not for the program, they would not have had that chance.
"We never had that opportunity to send students on an international trip before now," she said.
Traveling abroad and doing a service learning project, then returning to their own community, and using the skills and knowledge gained to create a service learning project for incoming students is a very rewarding experience, Kimberlin said.
Shaw said they hope to encourage others to consider TRiO.
"Aaron and I have both benefited tremendously from the guidance and assistance received from TRiO," Shaw said. "We hope to show others how they can gain a strong college experience and a long lasting relationship with the staff members of TRiO."
Shaw said their goal is to inform incoming TRiO students about the benefits and resources available through the program such as scholarship assistance, tutoring, mentoring, comprehensive advising, and transfer assistance.
"We also intend to focus on the social, cultural, and educational opportunities associated with being a TRiO member," she said.
The OCCC Public Relations and Marketing Department is assisting with the project. Dan Anderson, a video production specialist at OCCC, will help with the production process. The video will include footage from past TRiO events and some footage of Shaw and Kimberlin during their adventures in the Dominican Republic.
"One fun segment will include Aaron jumping into the tallest waterfall in the Caribbean," Shaw said.
TRIO support services has been available on campus since 2005 and is funded by a federal grant from the U.S. Department of Education.
Students accepted into TRIO do not have to pay for the program, Shivers said. Applications are received year round from current students who meet certain eligibility criteria.
TRiO applicants must attend OCCC, have low income or be first-generation college students. "First-generation" means neither parent can have obtained a bachelor's degree, Shivers said. Students with a disability are accepted and have to be interested in graduating from OCCC and transferring to a university.
"Our mission is to help first-generation, low-income students succeed through college," Shivers said.
For more information about TRiO support services, visit the student office located in room 117, next to the Bursar's office on the first floor of the Main building.
Interested students also can call the TRiO office at 405-682-7865 or visit the website at www.occc.edu/TRIO.