Students can still apply for spring graduation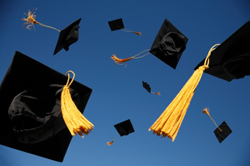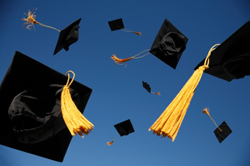 With the spring semester coming to a close, many students are looking forward to taking the next step in their academic journey. For some students, graduation is part of that process.
Graduation Services Director Barbara Gowdy said students are encouraged to fill out the graduation application as soon as possible.
She said applications are due on the third Friday at the beginning of each semester.
However, Gowdy said, students do not need to worry if they have not applied yet. The graduation office is flexible with the deadline.
"We don't stick hard and true to those deadlines," she said, "because we allow people to enroll through the last day of the semester."
Gowdy said the graduation office will be taking graduation applications until the end of the semester, so students still have time to apply for spring 2014 graduation.
"We're not going to punish somebody [who] forgot to apply," she said.
The downside of applying late is that those students will not have their name in the commencement program.
"It's really important if they want their name in the commencement program … that they have to apply by the deadline to guarantee that in the spring.
"Summer and fall, it's not a big deal because we have plenty of time to get their name in there but the spring they have to apply."
Gowdy said students who apply late run the risk of finding out too late they haven't completed all the classes they need to be eligible to graduate.
"We encourage students to fill out that application a semester prior to when they think they will finish, so that if they've missed a step, they have time to enroll in a class they might need," she said.
Gowdy said students should meet with advisers periodically to stay on course.
"If there's any approved electives in your degree plan, make sure you talk to your faculty adviser to get the paperwork done," said Gowdy.
When students apply, they will receive an email from the graduation office which also will be sent to their faculty adviser.
" … Their faculty adviser might know then if they need something approved, because we'll say that in the email," she said.
Students also are advised to run a degree check on MineOnline so they can make sure the courses they have taken match their degree plan, Gowdy said.
In addition to filling out the application, students will need to attach all official transcripts from any other institutions they have attended, she said.
The free application is available both online and in the Graduation Office located on the first floor of the Main Building.
Gowdy said students can either apply online or bring the application to the office on the first floor of the Main Building.
The application can be found on the Records and Graduation Services website at www.occc.edu/records. For more information about applying for graduation, contact Gowdy at 405-682-7528 or email bgowdy@occc.edu.