Students can learn while traveling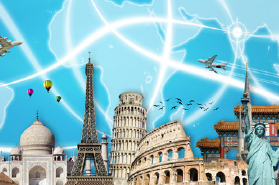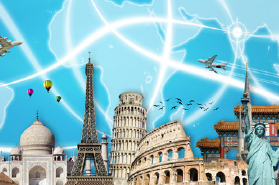 Oklahoma Study Abroad is a program that allows students to explore the world, while earning college credit at the same time. Oklahoma Study Abroad founder Christian Alyea spoke about the benefits of international travel to a journalism class on Oct. 6.
"We started in 2010," Alyea said. "Our first trip was through OCCC to Costa Rica.
"We offer trips to Central America, South America, all over Europe, India, — and we will be taking a biology trip to South Africa next year."
Alyea is from Oklahoma City and attended Classen School of Advanced Studies for high school. He then traveled to Slovakia in 2005 as a high school exchange student.
He attended the City University of Seattle campus in Slovakia, and returned home in 2010 with a bachelor's degree in business administration, and a desire to spend more time traveling.
"Our goal with all of our travelers is to get them to a city, get them engaged in the city, teach them how to operate and get around, and build their confidence to continue these types of journeys in the future," Alyea said.
Alyea said the hope is that the students will return for a full semester of coursework at a four-year university.
When asked exactly how "study" fits into Oklahoma Study Abroad, Alyea responded by saying each trip has an educational focus. He said while study abroad can be pricey, there are many forms of financial help.
"The good thing about study abroad is you can use Pell Grants or any type of financial aid," he said.
Alyea said leftover money from scholarships also can be used to help fund the trip.
He said several travelers have used online fundraising programs such as GoFundMe, while other students have gotten companies to sponsor their trips.
Trips range from 10 days up to two weeks, Alyea said.
"You do not have to be a student to participate," he said.
"You can bring friends, you can bring family, even boyfriends and girlfriends."
Mireya Delgado, Cyber Security major at OCCC, shared her experience of traveling to Italy on an Oklahoma Study Abroad trip.
"It's a wonderful experience," she said. "You meet so many new people and try so many different types of food."
Delgado returned for a trip to Central Europe with an OCCC group this past summer.
Alyea said trip itineraries allow for travelers to explore on their own.
"One thing that's essential is the amount of free time you're given," he said. "It's about creating your own personal experiences."
Alyea also talked about living accommodations. He jokingly asked if anyone knew the difference between the word "hotel" and "hostel."
"The S," he said. "The S stands for social. It's a place where travelers from around the world can socialize, meet each other and have a great place to stay."
News Writing Professor Sue Hinton recounted her own experience with hostels during a study-abroad trip to Rome and Florence.
"Oftentimes you're within walking distance from the nearest grocery store," she said.
"If you want a little more than whole wheat bread and cereal for breakfast, then you can go to the store and buy your own fruit and yogurt.
"Sometimes someone may volunteer to cook dinner. Someone would have the pasta recipe, and someone else would get the salad. Believe it or not, it was some of the best food we'd ever had."
OCCC will offer six study-abroad trips in 2016. Prices include airfare, accommodations, in-country transportation, breakfasts and some dinners, Alyea said. Course tuition and books are not included.
London for spring break is scheduled March 11 through 20. Participating students will take an Introduction to Theatre class with Professor Brent Noel. Cost is $2,700. Noel's email is bnoel@occc.edu.
Paris is scheduled for May 16 through 25, for an Art Appreciation class with Hinton. Cost is $2,700. Hinton's email is shinton@occc.edu.
Rome and Florence, Italy, is May 16 through 26 for a Beginning Italian class with Modern Languages Professor Ginnett Rollins. Cost is $2,900. Rollins' email is grollins@occc.edu.
Costa Rica will be the destination for a Spanish Immersion class from May 16 through 29 with Modern Languages Professor Hilde Votaw. Cost is $1,900. Votaw's email is hilde.m.votaw@occc.edu.
Ireland will be the destination from May 16 through 29. The course will be Geography–Landscapes of Identity with Geography Professor Julie Rice-Rollins. Cost will be $2,900. Rice-Rollins can be reached at jrollins@occc.edu.
Costa Rica and Panama will be the location for a biology class in Environmental Conservation with Biology Professor Sherri Arthur. The dates are July 30 through Aug. 11. Cost is $1,900. Arthur's email is sherri.j.arthur@occc.edu.
For more information about Oklahoma Study Abroad trips, visit www.oklahomastudyabroad.com.