Students can earn credit on European study-abroad trip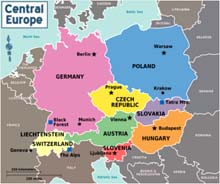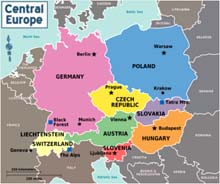 Seventy years ago, in 1945, the Auschwitz concentration camp near Krakow, Poland, was liberated at the end of World War II.
The site of that dark period of European history is on the itinerary of an Oklahoma Study Abroad program being offered from June 27 to July 11.
This trip to Central Europe will include Warsaw, Krakow, Prague, and Budapest.
Christian Alyea is director of the Oklahoma Study Abroad Program. He has been on many different trips with this program as a trip guide.
Alyea said this will not be his first time to visit Central Europe or the concentration camps. During this specific trip, the travelers are going to visit two different concentration camps, Terazine in the Czech Republic and Auschwitz-Birkenau in Poland. Each has a different feeling and story.
Terazine located in the Czech Republic was a propaganda camp, not an extermination camp like Auschwitz was, Alyea said.
Terazine was a labor camp, but at the same time it was a camp where the Nazis would send the upper class Jews, Alyea said. The Nazis filmed the prisoners to make it seem like they were happy to the outside world.
Auschwitz concentration camp was part of a network of Nazi concentration and extermination camps built during World War II.
Over the course of four years around 1.1 million people died there.
"When visiting Auschwitz you walk into the gas chambers and you just feel it," Alyea said. "It's incredible."
Alyea described the experience as heart-wrenching and said this feeling continues to come back to him, even after visiting the concentration camp for the third time.
"The experience is definitely eye opening," Alyea said. "I think it's essential people visit these places."
This is the third time Oklahoma Study Abroad has offered the Central Europe trip, Alyea said.
They make sure during each trip to visit the camps.
"This trip isn't a depressing trip," Alyea said.
"These are some of Europe's most beautiful cities, but a lot of these cities have some of the darkest pasts."
A historian of the Holocaust will be the instructor on this trip.
Although there will not be a class offered on this trip, there will be many different tours and lectures at all the historical sites.
Ruth Charnay, dean of the Arts division at OCCC, will be the instructor.
For the past 25 years Charnay has been working with the Jewish community in Oklahoma City on Holocaust education. She tries to help mostly in high schools to produce films, programs and bring in guest speakers.
"It's important to remember what happened in the Holocaust and make sure it's never repeated," Charnay said.
She said she has never been to these sites and is eager to see these places firsthand. This means a lot to her, she said, because she has studied and read so much about them.
This study abroad program is open to all ages and anyone is welcome to attend.
Registration for the Central Europe trip is still open. The cost is $2,915 including airfare, accommodations, ground transportation, entry fees, and some meals.
For more information, visit the Oklahoma Study Abroad website, under short-term programs or contact Alyea at christian@oklahomastudyabroad.com.
Charnay can be reached at 405-682-1611, ext. 7143, or by email at rcharnay@occc.edu.
To contact Lauren Carter, email onlineeditor@occc.edu