Students can access free help, services via labs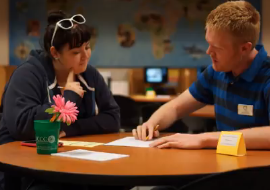 OCCC has more than 10 labs and centers located around campus where students can study and improve their skills.
The Communication Lab is one. Located just outside of the General Dining Area, the lab's goal is to help OCCC students improve their literacy skills with the help of student workers in the lab, said Lab Supervisor Nicholas Webb.
Webb said it's important that students realize the lab is a tutoring service, not a proofreading service, meaning employess will go over a paper with a student but won't allow papers to be dropped off and picked up later.
He said students are often so discouraged about a class paper that is due that they consider dropping the class. "We're here to prevent that."
The lab also offers a Skype tutoring service, Echo 2.0. Webb said students can fill out a form at www.occc.edu/comlab/echo.html to access that service.
Webb said the lab provided services to 4,000 students last semester.
He said students can apply to be a tutor at the lab. Requirements are that the student made at least a B or above in English Comp classes and must also have good communication skills.
The Communications Lab hours for the fall semester are 8 a.m. to 9 p.m. Monday through Thursday, 8 a.m. to 3 p.m. on Friday, and 10:30 a.m. to 2:30 p.m. on Saturday.
Another helpful lab on campus is the Math Lab. Located on the second floor of the Science, Engineering and Math Center, the lab is free and serves as a supplement to math classes.
Christine Peck, Math Lab supervisor, said the lab is there to serve the students and is open 72 hours a week.
The lab provides calculator rentals to students, textbooks for every class in the lab, tutoring, and email and phone correspondence, Peck said.
"Tutoring someone with math is different than other subjects, so we also provide workshops to help with things like using graphing calculators," she said.
Students who would like to work in the lab need to have made a B or better in any math class offered from OCCC and also have good people skills, Peck said.
Math Lab hours for the fall semester are from 7:30 a.m. to 10 p.m. Monday through Thursday, and from 8 a.m. to 4 p.m. Friday and Saturday.
Also located in the SEM Center on the second floor, is the Biology Science Center.
Virginia Hovda, Biology Lab supervisor, said the lab provides models and supplemental lab activities for all science classes offered at OCCC with additional help provided by lab assistants. She said there are usually anywhere from 15 to 20 assistants employed in the lab.
The lab functions as an important place of study for students at the college, but also for online students who may have to participate in a supplemental lab there, Hovda said.
She said students are expected to know the rules of the lab prior to entering and are expected to be timely with any appointments they make.
The Biology Science Center hours for the fall semester are 9 a.m. to 9:30 p.m. Monday through Thursday, and 9 a.m. to 3 p.m. Friday and Saturday.
OCCC students who need to use a computer or tablet to do homework or research can visit the Student Computer Center located on the third floor of the library.
Gary Dominguez, Student Computer Center Supervisor, said the main clientel are Information Technology majors, but said the area is open to all students with a valid OCCC student ID.
Dominguez said the lab is extremely accessible, staying open until 10:45 p.m. most nights.
He said the lab tries to keep up-to-date with industry standard computers. He said it houses a few special machines for graphics design students, including tablets with pens.
The lab has several printers, including color printers, which are exclusive to several courses because of the price required to replace a single cartridge.
There are few rules for the lab. No children, and no food or drink are two of the main ones, Dominiguez said.
Student Computer Center hours for the fall semester are 7:30 a.m. to 10:45 p.m. Monday through Thursday, 7:30 a.m. to 8:45 p.m. Friday, and 8 a.m. to 4:45 p.m. Saturday.
The college also houses labs that are specific to certain majors.
For more information and a full listing of OCCC's labs and centers, visit www.occc.edu/academics/labs-and-centers.html.