Students tour UCO campus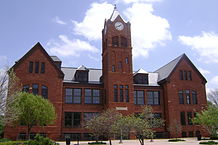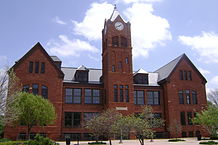 It sounds like the beginning of a bad joke — but the mission was totally serious.
A business major, a nursing major, a science major and two public relations majors took a tour of the University of Central Oklahoma earlier this semester.
The students hoped to learn whether UCO was the university where they wanted to transfer after leaving OCCC.
Javier Puebla, OCCC's Transfer and Graduation Services coordinator, organized the tour.
UCO's transfer specialist Jeffrey Hicks hosted the students at the Edmond campus.
He began by buying them lunch at Buddy's, the campus cafeteria where students go on their lunch break or to grab a snack between classes. The cafeteria offers a meal
plan for students that can be paid for upfront, Hicks said.
The students brought their OCCC transcripts so UCO advisers would be able to go over a degree evaluation at the transfer center while the students walked around campus.
First Hicks took the students to the business building. That building is for students who are business majors, including accounting, business administration and business management.
Because one of the OCCC students on the tour was a business major, the group went to that building so she could check out the classrooms.
The next stop was to the Department of Nursing building. The OCCC nursing major said she was torn between going to UCO or the University of Oklahoma, depending on
financial help and each university's nursing program.
UCO offers a bachelor's degree in nursing, as well as a career ladder program for
RNs who want to complete their bachelor's degree and for LPNs who want to obtain their
bachelor's degree in order to sit for the RN nursing licensure exam.
Next was the Mass Communications building for the public relations majors. This
department offered many types of broadcasting and journalism degrees. UCO offers
bachelor's degrees in Interpersonal Communication, Organizational Communication,
Photographic Arts, Professional Media and more.
The final stop was the Forensic Science center. The Forensic Science Institute offers a multidisciplinary program for those who want to work in criminal justice. The Forensic Science Institute offers training in all aspects of evidence collection, preservation, analysis, reporting and testimony.
To conclude the visit, the students returned to the Nigh Center where they saw an
adviser and went over their degree program.
OCCC offers free campus tours to several Oklahoma colleges and universities during the fall and spring semester.
For more information or to register for a tour, contact Javier Puebla
at 405-682-1611 ext. 7567.
To contact William Davis, email onlineeditor@occc.edu