Student says a need exists for Advocates of Peace class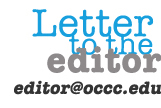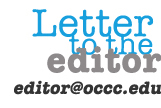 I would like to give you reasons, from a student's perspective, for OCCC continuing to offer the Advocates of Peace class.
This class was one of only a few of the humanities courses listed that held any interest for me.
You see, I have Major Depressive Disorder brought on by the traumatic death of my husband.
Life held very little interest for me at all after witnessing his death.
This class has begun to give me back my passion for life again.
It has reminded me that there are things worth fighting for and caring about.
It has reminded me of the way I was before — always willing to stand for the cause of peace, justice and a sense of equality for all people.
I also believe that even in the short time I have attended this course, the techniques for using Non-Violent Communication have shown me the error in some of the ways that I communicate with others in my life. It has given me new tools for communication that have already improved my life.
I believe the methods taught in this course are exactly what I and the other students on this campus need.
In light of the shooting on the Umpqua Community College campus in Oregon, more methods for Non-Violent Communication are needed, now more than ever.
This class has fostered more attentiveness toward community and camaraderie among the students that are all of varying ethnicities and cultures.
It has been an exceptionally positive experience for me and I feel that removing the course from the schedule would leave a much bigger void than would be expected from simply removing any other class.
I urge OCCC officials to reconsider any thought you might have of removing this course, as it is very effective at encouraging peace in this campus and community.