Students prep for Thanksgiving break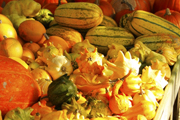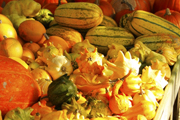 Tina Phillips/
FreeDigitalPhotos.net
OCCC will close at 5 p.m. Tuesday, Nov. 22, in recognition of Thanksgiving.
Although the 2011-2012 academic calendar shows the campus has limited access Friday, Nov. 25-27, Candice Parker, a student programs leader, confirmed the entire campus would be closed from Tuesday evening through Sunday night.
Students said they appreciate the time off from classes and work.
"Getting to spend time with the family I don't get to see a lot would be my favorite part of the holiday, and eating," said Jacob White, student and Welcome Center employee.
"It does make me thankful for only being able to see them one or two times a year," White said.
From watching the televised NFL games to filling up on turkey and stuffing, Thanksgiving is enjoyed by all who celebrate the holiday for either religious or personal reasons.
However, there are also many OCCC students who do not observe the holiday.
Education major, Flora Taher is one of these students.
"During the break I'll just be at home sleeping," Taher said.
Abbie Figueroa, modern languages professor, has invited her ESL students to her home for a Thanksgiving Day meal in the past.
"They're fascinated by the giant turkey we cook," Figueroa said.
Thanksgiving Day is celebrated primarily in the U.S. and Canada. In North America, not all feel the need to observe it.
This year, Thanksgiving is observed on Nov. 24.
For more information on the campus' closing, contact Student Life at 405-682-7523.
To contact Sarah Hussain, email staffwriter3@occc.edu.
Turkey Day trivia
•   The first Thanksgiving took place in Plymouth Colony, in present-day Massachusetts, in 1621. More than 200 years later, President Abraham Lincoln declared the final Thursday in November as a national day of thanksgiving. Congress finally made Thanksgiving Day an official national holiday in 1941.
•   The American Automobile Association estimated that 42.2 million Americans traveled 50 miles or more from home over the Thanksgiving holiday weekend in 2010.
•   According to the U.S. Census Bureau, Minnesota is the top turkey-producing state in America, with a planned production total of 46.5 million in 2011.
•   Illinois, California, Pennsylvania and New York are the major pumpkin growing states; together they produced 1.1 billion pounds of pumpkin in 2010. Total       U.S. production was over 1.5 billion pounds.
•   Three towns in the U.S. take their name from the traditional Thanksgiving bird, including Turkey, Texas and Turkey, North Carolina.
•   The first time the Detroit Lions played football on Thanksgiving Day was in 1934, when they hosted the Chicago Bears at the University of Detroit stadium, in front of 26,000 fans. The NBC radio network broadcast the game on 94 stations across the country — the first national Thanksgiving football broadcast. Since that time, the Lions have played a game every Thanksgiving (except between 1939 and 1944); in 1956, fans watched the game on television for the first time.
Food, warmth offered on Thanksgiving
For those who need a place to eat on Thanksgiving, several area organizations are offering free meals. Some of these are:
Edmond Community Thanksgiving Dinner: University of Central Oklahoma, Nigh University Center, 100 N University. 11 a.m. For more information, call 405-340-0691 or visit www.fccedmond.org. To arrange for a delivered meal, call 405-341-3602, ext. 130.
Great Thanksgiving Banquet: City Rescue Mission, 800 W California Ave. in OKC. 11 a.m. For more information, call 405-232-2709 or visit www.cityrescue.org.
Norman Thanksgiving Day Community Dinner: Norman High School, 911 W Main. Noon to 2 p.m. For more information, call 405-360-4954.
Noble Free Community Thanksgiving Dinner: Noble Public Library, 204 N 5. 11 a.m. and noon. Each serving time will accommodate 200 people. For more information, call 405-872-3434.
Salvation Army Thanksgiving Breakfast Brunch: Bricktown Coca-Cola Events Center, 425 E California Ave. 8:30 a.m. to 10:30 a.m. For more information, call 405-246-1100 or visit www.salvationarmyusa.org.
Thanksgiving Day Meal: Britton Road Church of Christ, 2520 W Britton Road in OKC. 11:30 a.m. to 1:30 p.m. For more information, call 405-843-0300 or visit www.brittonroad.org.