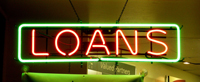 Student loan debt exceeds $1 trillion dollars across the nation — a figure that likely exceeds credit card debt, said Linette McMurtrey, Financial Aid assistant director.
All student loans are given out through the Department of Education, McMurtry said. She said students taking out these loans should be aware of the interest rate and what they're agreeing to when taking out the loan.
And, she said, enter into the agreement knowing the loans will have to be repaid once you graduate.
Those who have difficulty repaying the loans have a few options, McMurtrey said.
"We always encourage students [who are] having trouble making their payments … to contact the organization servicing their loans.
"They can access all loan history on nslds.ed.gov. It would tell them who their servicer is, how much they owe, and how to get in contact with their servicer," McMurtrey said.
After graduation, she said, all students are set up on a standard repayment plan which often results in the highest payment for a student loan.
"If students are struggling with their loan payment, they may want to look at the other repayment options that are available and they may qualify for a forbearance or a deferment of their loan for a certain time period based on their financial situation."
Although some look at filing bankruptcy as a solution, it usually isn't.
McMurtrey said there are certain criteria one would have to meet in order to file for bankruptcy.
"For student loans to be included in a bankruptcy, the individual would have to prove that it would cause undue hardship.
"It requires that the individual show that they made a good faith effort to repay their loans, that they were not able to maintain a minimal standard of living and still repay the debt, and the conditions that prevent the individual from repaying the debt will likely persist for most of the full term of the loan," she said.
"Even if an individual can prove that this could prove undue hardship, it's likely that even if approved it would result in a partial discharge of the debt."
McMurtrey said federal and private loans are generally not able to be discharged through bankruptcy.
"There were several laws passed in the 1990s to protect taxpayers from the high number of student loans that were in bankruptcy."
According to information on Above the Law's website ( http://abovethelaw.com), it's estimated that "at best," only 50 percent of student loan debtors are successful in their undue hardship claims.
"So unfortunately it looks like because of the laws and regulations, it doesn't look like bankruptcy is an option for the federal and some of the private educational loans," McMurtrey said.
To contact Sarah Hussain, email seniorwriter@occc.edu.