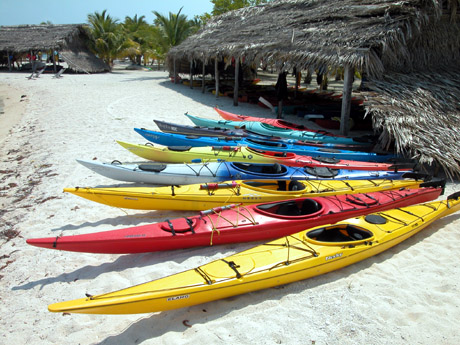 In this day and age not many accomplished athletes would choose education over their promising future in a particular sport. It takes courage to start all over with a new challenge in a new place but that was the bravery shown by student Arezou Motamedi Fakhr.
"My plans changed and I came here to pursue my athletic training and an education," Fakhr said.
Fakhr is a 23-year-old woman who has won international gold and silver medals in kayaking for her home country of Iran.
Fakhr said she has traveled the world competing in locations such as Czech Republic, Poland, Germany, China, Korea, Croatia, Romania and across the U.S. She said she has been a part of the Iran National Kayaking team for five years but has only been kayaking for six years.
"I recently got back from a competition in Seattle where we won a gold, two silver and three bronze medals," Fakhr said.
Born in Tehran, the capital city of Iran, Fakhr's love for the water began at a young age, she said.
"I was originally a swimmer first," she said. "I began at age 3 and was on the Iran Youth National Swim team from age 5 to 6," Fakhr said.
"I have always loved water sports."
Fakhr said she decided to convert from swimming to kayaking because of her home country's strict requirements for swimming.
"In Iran we do not have the opportunity to compete in national or international competitions because we have to cover our bodies so we could only compete in Islamic countries or just in Iran," Fakhr said. "I wanted to improve because in kayaking we can compete internationally."
Fakhr said she moved to Oklahoma City just three months ago and had her mind made up on what she wanted to accomplish here.
"I want to continue my training and to get my education,"Fakhr said.
Fakhr mentioned that one of the main attractions that brought her to Oklahoma City is the Devon Boathouse.
The Devon Boathouse is a state-of-the-art $10 million facility in downtown Oklahoma City which is used to enhance rowing and paddling performance and much more, according to boathousedistrict.org.
Fakhr said she is taking English classes  at OCCC now to improve her communication skills but eventually wants to pursue an athletic training degree.
Fakhr said she prays before every competition to help her focus and she hopes to bring that same focus to accomplishing her dreams here in the U.S. and Oklahoma City.
"I want to be an athletic trainer and reach the highest level I possibly can," Fakhr said.
To contact Brandon Willis, email sportswriter@occc.edu.