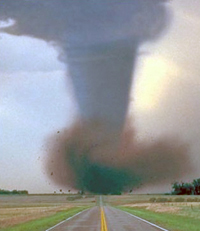 Tornadoes ripped through the state May 24, leaving 10 people dead, more than 100 people injured, and destroying numerous homes and lives.
"This is devastating," said Nhan Ha, premed major. "A lot of people lost their homes. It was really close to my home."
Heather Pemberton, Phi Theta Kappa president, said her group is ready to help.
"We are just waiting for sign off from (Student Clubs and Organizations Assistant) Karlen Grayson," Pemberton said. "We're hoping to get that on [June 3.]
As soon as that approval comes through, the group plans to have a donation drive that will last two weeks, she said.
Donations of any kind are needed, Pemberton said. That includes cash, household items and food.
For more information and updates, visit www.occc.edu/ptk or follow the story at the Pioneer Online at www.occc.edu/pioneer.
Those looking for a way to help have several off-campus options to choose from as well.
• The Oklahoma Baptist Disaster Relief Team is accepting monetary donations for tornado victims. Send donations to: Oklahoma Baptist Disaster Relief, 3800 N May, Oklahoma City, OK 73112. To make a donation online, go to www.bgco.org.
• The Canadian County Salvation Army Service Center in El Reno is accepting donations for its mobile canteen unit. Snack foods and beverages are needed. Donations can be taken to 201 S Bickford. For more information, call Leslie Johnson at 405-295-2343.
• Bible Baptist Church in Chickasha is accepting donations of items for tornado victims. Clothing and household items are needed. Donations are being accepted at the church at 226 S 29th St. For more information, call 224-1569.
• Farmers Insurance Special Mobile Command Center is providing assistance to those in need at Piedmont First United Methodist Church, 2525 Piedmont Road North. Call Jerry Davies at 213- 400-4459.
• FEMA disaster assistance: 800-621-FEMA (3362)
• United Way of Central Oklahoma: 405-236-8441 or visit www.unitedwayokc.org
• Tri City Hope Center: 405-392-5090, 201 S Main. Opens at 9 a.m. Thursday for donations and assistance. Clothing, food, and household items needed.
• Piedmont Service Center, 415 Piedmont Road North, 405-373-4022, is accepting gift cards for household items, clothing, and food.
• Keep it Local is donating 100 percent of online Keep It Local OK Card sales to the Red Cross until noon Thursday. Go to www.keepitlocalok.com.
For further information visit www.newsok.com.