State Music Scene Makes Way for The Indigos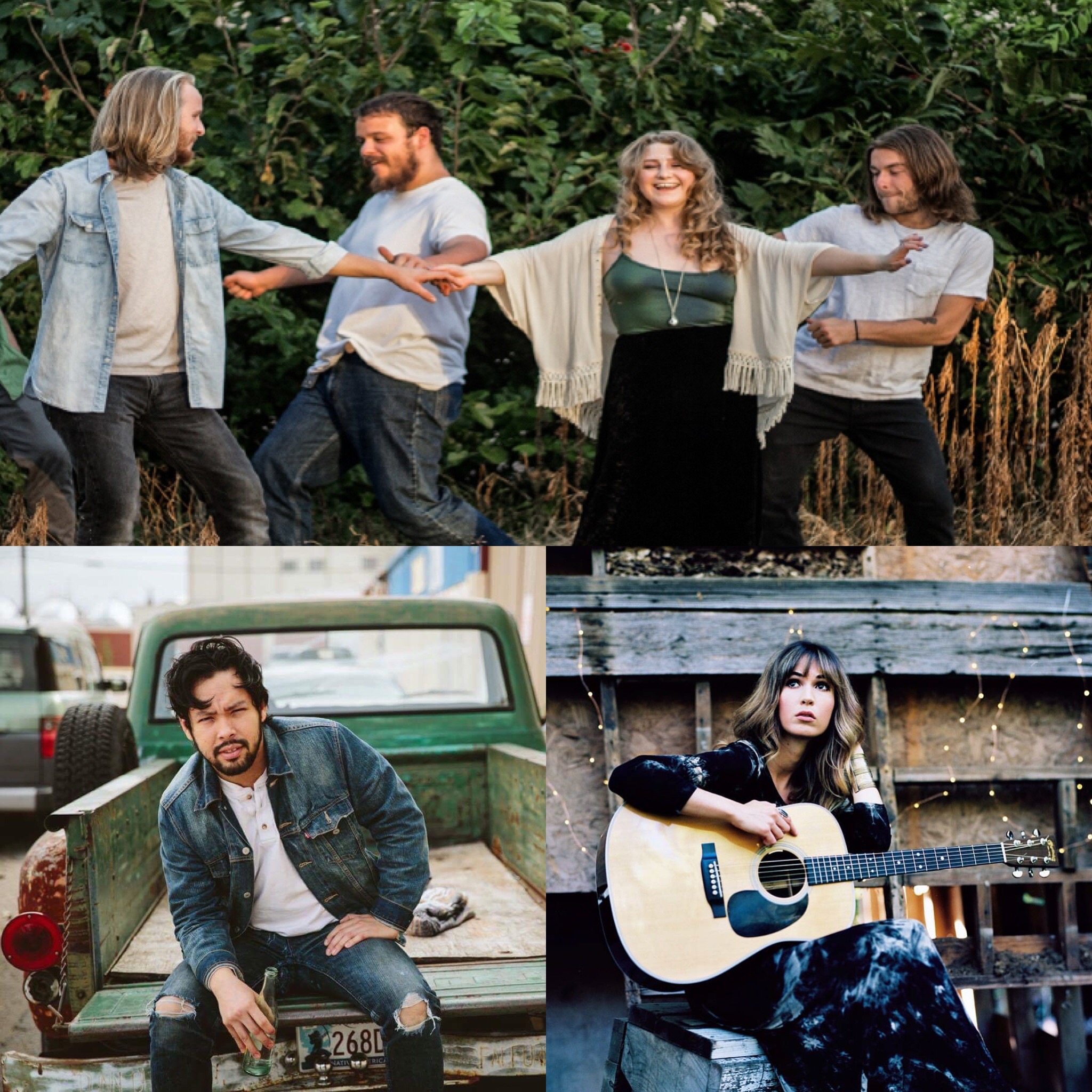 Darkness falls. The summer heat radiates from the pavement.
With a quick turn to the left, the hustle of the city shifts onto a quiet country road. The infamous Oklahoma sunset sinks beneath the trees.
Miles down the road, music is heard.
Disguised as a regular office space, nature circles the parking lot of the Downtown Music Box in Oklahoma City. Cicadas screech. Musicians, smoking American Spirit cigarettes, circle the cars.
Inside the building a maze of doors are outlined retro decor style. Different types of music filter through each hall.
At the final door, indie-rock band The Indigos begin to practice.
Within their studio, time reverses back to 1960. Walls layered by vintage vinyl covers, new age tapestries, and classic rock and film memorabilia surround the room. Musical instruments fill each corner.  
This Fleetwood Mac inspired foursome came together, each with a different background. With melodies of soulful folk and ambient rock, The Indigos have created an eclectic sound: Angelic ballads resembling Ingrid Michaelson and softrock in the style of Brandi Carlile.
Lead Singer Amber Wood, 20, twists her wild curls. Standing in her Bohemian-style dress, Wood recalls how music became the core of her childhood.
"My grandmother was an opera singer, my dad and grandfather played the keys and my sister plays violin," Wood said. "It's just a shared passion within us."
Wood's family had a military background, so moving was a constant throughout her life.
Eventually she landed in Oklahoma.
Still, even though every state was different, Wood said the one thing that remained in their family was music. When Wood was barely a toddler, she remembers begging her mother to let her go to a concert.
"I didn't know what it was, but I knew I wanted to go," Wood said.
Wood's father finally convinced her mother to bring Wood along.
Wood said that night would change her life.
"My mom had me on her shoulders. We got pushed to the front," she said. "The band saw my Mom struggling to keep me up, so they pulled me onstage and said, 'Look at our new backup singer!'"
Ever since then, she said, she wanted to be a musician.
Later, Wood followed her dreams and became a solo act. She played and sang on the colored corners of the Paseo Art District in Oklahoma City. Performing became her passion.
"I feel like I let in on how people are really feeling," Wood said. "And in turn they get to know how I feel and in a way it's this beautiful unspoken communion with people I care about."
Wood soon became known as 'the girl with the hot pink guitar' around the Paseo.
As Wood continued to perfect her sound, she found herself in need of backup guitar player for an upcoming event.
Longtime friend Carson May, 23, agreed. With May, Wood found the sound she was seeking.  
May was a small town boy from Deer Creek, who was raised in the city.  
As he got older, he moved and shifted schools, and realized the public school system wasn't for him. "I went to Deer Creek High school for a while. That's where my parent's live," May said. "Public schools just weren't a great fit for me."
May chose a program that was able to show off his creative side that public school couldn't offer. He enrolled in the Harding Fine Arts Academy, a charter school that prepares students for college in an academically challenging, art-integrated environment. At Harding, May became a teacher's aide for a guitar class.
Toward the back of the class sat Wood. Quickly, the two became friends.
After the success of their first show, Wood wasn't ready to stop. "We put our little show together and that went swimmingly," she said. "After that I asked him 'do you want to keep playing music with me? Is that like an option?'"
They named themselves The Indigos.
Indigos, many who practice New Age religion believe, are a group of children who possess special, unusual, and sometimes supernatural traits or abilities.
In simpler terms, Wood saw their band as a group of outcasts. "The weirdo's, the creative ones that stood out," she said.
With a new name and some experience under their belt, The Indigos quickly began to tour just a few weeks after their first show.
Wood and May traveled to California and toured through the state for the next four months. There, they produced their first record.
"Everything that could have possibly gone wrong happened, but we made it work," Wood said.
The Indigos played night after night, making new friendships along the way.
"At one point we were sitting on Venice Beach, just sitting out on the sand," Wood said. "Then Carson said, 'How cool would it be if someone said you guys are great, come play for us and love on us.' I shit you not, thirty minutes after, that happened."
The Indigos were also invited to the admirers home.
"We ended up getting welcomed into this beautiful home meeting the sweetest people in the whole wide world," Wood said. "Now we're still really good friends with them even four years later."
When the pair eventually returned to the Sooner State, their band unexpectedly gained two new members.
First, it was their drummer, Michael Fabri, 23.
Fabri's roots grew from the center of Moore. He picked up his first pair of sticks when he joined his middle school's band class.
"Honestly my mom got me into music," Fabri said. He said he was unsure of which elective to take and his mother suggested he look into the band program.
"I made the percussion auditions and loved it. I was a natural and it stuck," he said.
With his long brown hair and symbolic tattoos along his left arm, Fabri said he gained years of drumming experience after high school.
After Fabri moved to Oklahoma City, he began applying for jobs in the area. On the side, he performed with local metal band 'Area of Effect \m/ .'
Later, Fabri had gone to the Native Roots Market to apply for a job where he crossed paths with May. The pair, who had known each other previously, reconnected.
Fabri was looking to collaborate with a different sound, outside of the metal genre.
"I was looking to branch out more," he said.
Fabri asked May to keep him posted on any bands looking for a drummer.
"I have a band," May said.
After a few practice runs and small shows, The Indigos liked what they heard.
"After playing together once, we just did it again, and again," Fabri said. "Then it kind of came together to be what it was. It's pretty crazy. The stars aligned."
Finally, they added in the last sound they were looking for, a bass.
Moving truck business by day and musician by night, Joshua West, 24, grew up in Norman. He picked up the bass at age twelve and his musical ventures began.
"I started in a cover band, and messed around with some other bands," West said.
His passion for music stuck and he applied it through school at the University of Central Oklahoma's Academy of Contemporary Music. There, he met May in a few of his classes. Later  some mutual friends introduced him to Fabri.
When the pair combined sounds, West showed his support and attended a few of their shows.
"Once they were all in a band together I had to go support my friends," West said. "I noticed they didn't have a full time bass player so after the second show I saw them play, I asked if they wanted a bass player and that was that."
Since then, The Indigos have begun to make a name for themselves.
Like other musicians, they fight for the same goal — to make their sound heard.
According to a 2015 report by the Oklahoma Bureau of Labor there are about 40,000 musicians in Oklahoma.
The numbers continue to grow, leaving a 3 percent employment rate.
Yet for a state with so much talent, the venues are outnumbered by musicians.
Soulful-folk artist, Jose Hernandez, 31, has regular spots to play at five days a week.
"It's my time to escape," Hernandez said. "I get to play my songs with a band that I love, all the while screaming my guts out. There really isn't anything better. I try to be as sincere as possible."
Hernandez, like most musicians in the Sooner State, has trouble finding places to perform. "These days in Oklahoma I only know of a handful of places that are really good about sound, "Hernandez said. "We have more bars and restaurants then we do venues."
As Hernandez continues to perform, each show has helped establish relationships within the music community.
"It's a close tight knit family. Everyone knows everyone," he said.
For The Indigos, each experience with a venue and local band has been left on a positive note, while performing with a variety of different sounds.
"We've performed with almost every genre I feel like," May said.
With each performance, The Indigos seek to remind their audience that everyone stands in the same shoes.
"There's this really weird mass-macho thing in the music scene," Fabri said. "We're trying to make it as a 'we're in this together, let's help each other out' kind of thing. I think that's what sets us apart.'"
As the inner circles of the music community continue to grow, locations like Oklahoma City, and Norman build their own connections by giving local performers a stage.
Business owner Michelle Simer recently invested in the well-known bar in Norman, the Bluebonnet. Simer had previously worked there as a bartender.
The Bluebonnet was a veteran's bar. The patrons tended to be older, age 70 and up.
Simer and long-time boyfriend Tanner Miller bought the BlueBonnet in May, hoping to give the old bar a change of pace. The establishment now has live music during the week and an Open Mic night on Monday nights.
"We're definitely becoming more of a venue versus a dive bar," Simer said. "We have local songwriters during the week and more bands on Friday and Saturday nights."
With the recent upgrade, Simer and Miller have stayed true to their regulars, while at the same time gaining a bigger, younger audience in the music community.
"Since we've taken over, we've gotten with the times," Simer said.
Simer and Miller made it a priority to support the local arts and newcomers arriving in the music community. "It brings me a lot of happiness giving musicians an opportunity to have a friendly and supportive place to perform," she said.
"A lot of the Normanities have never performed during an open mic, let alone a live audience. It is extremely important to Tanner and I to support the arts in every way we can," she said.
       As performers gain more support from friends, families and venues, others count down the days until their next performance.
For The Indigos, being on stage is what makes being a band worthwhile.
"Playing on stage is what I imagine flying an airplane is like, once you're in the air you don't ever wanna land," West said.
The connection to the audience and the response from the audience is what keeps The Indigos going — a connection that is a huge ice breaker to both musicians and their listeners.
The textbook 'Brain — A Journal of Neurology,' says that in all societies, a primary function of music is collective and communal.  
English psychiatrist, Anthony Storr, wrote that music brings and binds people together. Storr believes that people go to a concert or musical festival, to recapture the collective excitement and bonding of music.
For The Indigos, Storr's theory is right.
That communal connection, they said, is made by the lyrics.
Local folk-singer Katie Williams has always written poetry. Eventually, she put some of her poems to music.
"After I learned how to play the guitar, I put a few of my poems to music. Five years ago I couldn't play a G chord. Now I'm playing major festivals in Oklahoma. It's a trip," she said.
Williams finds her drive to perform through her music and her audience.
"Music is my direct connection to the source. It's pure, it's magic, and if I get to share that with a room full of other human beings, there's no better feeling in the world," she said.
Williams has progressed from open-mic newcomer to a full-time performer.
"It's been a long time coming," she said. "Artists are never meant to be placed behind other people's walls."
Like other musicians, Williams found that taking the big step from nightly musician to full-time performer is a 'now or never' kind of moment.
"They all say that you have to dive in head first," she said.
As Williams continues making her leap into her music career, The Indigos continue to plan their future.
"We've been trying to focus more on writing music," Wood said.
The Indigos have been creating material for their upcoming E.P. and are scheduling performances through 2017.
Musicians who started on their own and have come together, now create a sound that Oklahoma can't turn away from.
A sound that started with a hot pink guitar.