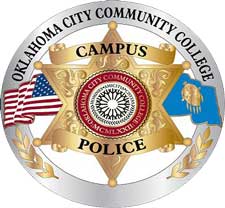 Stalking and a traffic accident were among reports taken by campus police recently.
On Sept. 9, Sgt. Jeremy Bohannon took a report that a female student, whose name and age was redacted on the report, had been followed by an ex-boyfriend.
The woman said that she and the man, 22, had recently ended a relationship and were not on good terms. The report shows that on Sept. 8, the man visited the woman in her work area at OCCC.
She said his presence made her feel threatened. The report shows the student was able to leave the campus without any conflict. The case is still active.
In another incident, a female student distracted by talking on her phone while driving ran a stop sign resulting in a collision at 5:45 p.m. Sept. 10.
Camille Milton, 23, told officers she was talking on her phone while turning onto Regents Boulevard. when she collided with student Kira Brook Middleton-Agenbroad, 22, who was headed south. Martino said no one was injured in the collision.
On Sept. 8, Officer Daniel Piazza responded to a medical call in the Communications Lab at around 10 a.m.
Piazza reported that a student, 22, whose name was redacted from the report, was visibly ill and sweating.
The man said he had been sick for several days.
Piazza said, at one point, the man's arm turned purple. He then laid on his side and appeared to be seizing, the report shows.
Piazza said the man was running a high fever and had extremely high blood pressure. EMSA transported him to Mercy Hospital.
A hospital spokesperson said no information could be given out about the condition of the student.
Vandalism was discovered on Sept. 9, when a shelf in a men's restroom in the VPAC, room 128, was found partially torn away from the wall. In the report, Officer Gordon Nelson said he photographed the damage, and the case was closed.
Some information was redacted from the reports under the direction of Marketing and Public Relations Director Cordell Jordan, who said names are redacted "according to OCCCPD Standard Operating Procedures involving information released and information withheld."
To obtain a copy of the procedure, email cjordan@occc.edu.
To contact Campus Police dial 405-682-1611 ext. 7747. For an emergency, use one of the call boxes located inside and outside the campus or call 405-682-7872.