Spring break travel deals fading quickly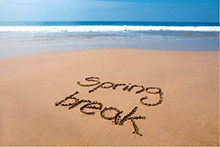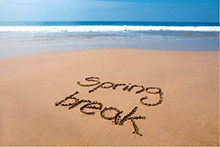 Students hoping to use their tax returns to pay for a spring break trip will likely pay top dollar this late in the game. Oklahoma City travel agents said almost all travel deals for spring break are booked solid.
"It's a little late for spring break travel as far as getting any great deals," said Toni Caldwell from Breakaway Travel Agency. "We can still do trips, but they're not going to be a really great price.
"It's just one of those things that you have to book early. Spring break is such a limited time and the whole state plus Texas has the same timing … therefore things just book really fast."
Marketing and group specialist at Bentley Hedges Travel, Bonnie Hedges, said cruises are most likely the only trip left.
"If [students] want to go on a cruise we can probably get them on a cruise for spring break, but my biggest advice is to book your spring break before Christmas.
"Right now there's not even any space available on the airlines unless they want to pay full top price."
Caldwell said a driving vacation would probably be the best bet at this point.
"You can maybe find some condos if you want to drive down the Alabama sun coast or some Florida areas because a lot of east coast [has] spring break later," she said.
Caldwell and Hedges said the best time to get great deals on travel packages is between the months of September and November.
Judy Reinauer from Big Sky Travel said Mexico and Cancun are the most chosen destinations.
She said those who plan to travel outside of the U.S.  will need a passport and be older than 18.
According to travel.state.gov, it can take weeks to get a passport so travelers would need to plan ahead. Reinauer said those who are traveling need to have a safety plan.
"If you go to Mexico, don't leave anyone by themselves," she said. "Always have a buddy plan."
In-state destinations
Looking for an affordable        spring break getaway? There are plenty of places in the state to explore March 16 through 22.
"Discover scenic byways and back roads that beckon you to get off the beaten path and explore Oklahoma's charming hometowns, interesting attractions, authentic culture and destination dining spots across the state. Whether you take your road trip in a vintage car, on a motorcycle, or in the family mini-van you'll find plenty of ideas that fit your style.
"Point your vehicle toward adventure and drive yourself to peaceful outdoor recreation spots, local wineries, small town main streets and big city attractions. It's Oklahoma, it's authentic and it's fuel for your soul," according to travelok.com.
Within 50 Miles
of okc:
• Jasmine Moran Children's Museum:
1714 OK-9, Seminole, 405-382-0950, jasminemoran.com.
• Sam Noble Oklahoma Museum of Natural History:
2401 Chautauqua Ave, Norman, 405-325-4712, snomnh.ou.edu.
• Science Museum Oklahoma:
2100 NE 52nd St., Oklahoma City, 405-602-6664, sciencemuseumok.org.
• Tatanka Ranch:
820343 N3480 Rd., Stroud, 918-368-2251, thetatankaranch.com.
• Double J Ranch:
47600 River Rd., Shawnee, 405-997-3166.
• Arrowhead State Park:
918-339-2204, state parks.com/arrowhead_state_park_in_oklahoma.html.
Within 100 Miles
of okc:
• Wichita Mountains Wildlife Refuge and Visitor's Center:
32 Refuge Headquarters, Indiahoma, 580-429-3222, fws.gov/refuge/Wichita_Mountains/visit/contact.html.
• Leonardo's Children's Museum:
200 E Maple Ave., Enid, 580-233-2787, leonardos.org.
• Lake Murray State Park:
13528 Scenic State Highway 77, Ardmore,  580-223-4044.
•Foss State Park:
OK-44, Foss, 580-592-4433, stateparks.com/foss_state_park_in_oklahoma.html.
• Nuyaka Creek Winery:
35230 N3830 Rd., Bristow, 918-756-8485, nuyakacreek.com.
within 100+ miles
of okc:
• Hitching Post Bed & Breakfast and Ranch:
101 Cedar, Kenton,  580-516-1213, blackmesacountry.wordpress.com.
• Little Sahara State Park:
101 S Main St., Waynoka, 580-824-1471, oklahomacampers.com/little sahara.
• Alabaster Caverns State Park:
217036 OK-50A, Freedom, 580-621-3381, stateparks.com/alabaster_caverns_state_park_in_oklahoma.
• Great Salt Plains State Park:
OK-38, Jet, 580-626-4731, state parks.com/great_salt_plains.
• Beavers Bend & Hochatown State Park:
Broken Bow, 580-494-6300, beaversbend.com.
• Robbers Cave State Park:
2300 Park Cabins Rd., Wilburton, 918-465-2565, stateparks.com/robbers_cave.
• Greenleaf State Park:
OK-10, Muskogee, 918-487-5196, oklahomacampers.com/greenleaf.
• Tenkiller State Park Lodge:
26247 Hwy. 82, Park Hill,  918-489-5641, laketenkiller.com/about-lake-tenkiller.
• McGee Creek State Park:
576-A S McGee Creek Dam Rd., Atoka, 580-889-5822, oklahoma campers.com/mcgeecreek.
• Lake Eufaula State Park:
Hwy 69 & Hwy 150, Checotah, 918-689-5311, stateparks.com/lake_eufaula_state_park_in_oklahoma.
To contact Katie Axtell, email communitywriter@occc.edu