Speech lab designed to help students with presentations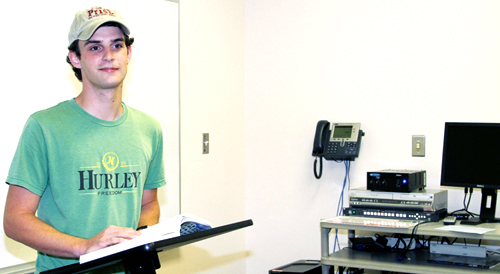 Psychology major Blake Romines scouts out the new speech lab in 1D4 of the Arts and Humanities building. Romines said he hopes the lab will help him prepare for giving speeches in his English Comp II class. (Rachel Morrison/Pioneer)
Having a speech lab for students to practice and perform their oral presentations has been a goal of speech professor Julie Corff since she was hired full-time four years ago.
Corff said her vision is now on the brink of becoming a reality.
She said the lab will improve students' public speaking skills because it will allow them to practice in front of a camera, then review their performance with an eye to upgrading their techniques.
Corff has worked tirelessly to open up a lab devoted to communications majors as well as to any student required to do public speaking.
"We have math labs, writing labs, biology labs, and everything in between," Corff said. "We had no speech lab, so I'm super excited to get it open."
She said the speech lab will be used for students to hone their skills by practicing for speeches and presentations of all types.
Public speaking major Hannah Miller said the new speech lab should be very useful.
"It will give me a nice environment to practice my speeches for class, something I can't do in very many places without looking weird," Miller said jokingly.
"Once it opens up, I'll be in there all of the time."
The lab, located in room 1D4 in the Arts and Humanities building, hopefully will be available to all students and staff of every division at the college, Corff said.
"We want it open for all OCCC programs so it is advantageous to all departments, students, and faculty at the college."
The lab will operate on a sign-up, first come, first served basis.
Once students sign the log, the lab will be available for them to practice their speeches in front of a camera, or if they choose, a full audience.
Corff said students will be allowed to bring in guests to help in their preparation.
Students may sign up for 15-minute intervals, with the option to extend it to 30 minutes for longer types of presentations, she said.
With leadership and equipment in place, the lab lacks one essential part in order for it to officially open for use.
Corff said work-study students are needed to operate the cameras and microphones.
"We're looking for at least two work-studies so that the lab can be available to students on a consistent basis," she said.
The job duties will include operation of cameras and teleprompters.
Other job information can be found on the OCCC employee website or by contacting Ruth Charnay, Arts and Humanities director, at 405-682-1611, ext. 7143.
Among the requirements are students need to be authorized to work 20 hours per week, Corff said.
"Having two work studies working 20 hours per week would allow us keep the lab open at times that are convenient to students."
For more information about the speech lab or the work-study position, contact Corff at 405-682-1611, ext. 7705.
Sports Writer Morgan Beard can be reached at staffwriter2@occc.edu.